Members of the Pussy Riot punk band, who staged an anti-Putin song at the altar of Russia's main cathedral, are on trial in a controversial case that has put the debate about freedom of expression in the spotlight.
Nadezhda Tolokonnikova, Yekaterina Samutsevich and Maria Alyokhina entered Moscow's Christ the Saviour Cathedral wearing masks, ascended the altar and chanted a song which implored the Virgin Mary to "throw Putin out".
The three were taken into custody and charged with "hooliganism motivated by religious hatred or hostility". They face up to seven years in prison if found guilty.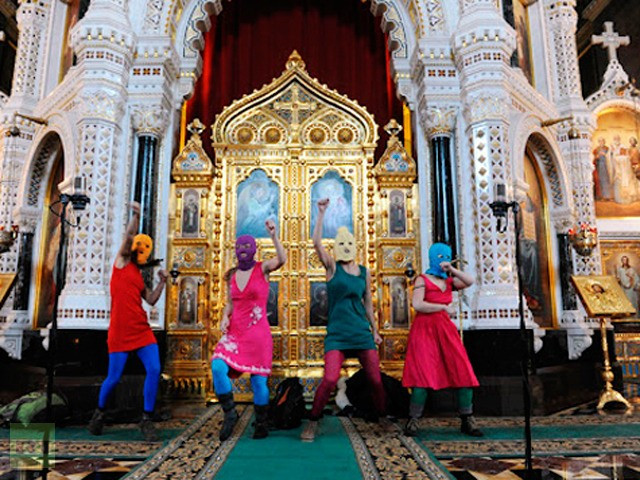 The head of the Russian Orthodox Church, Patriarch Kirill, has said the act amounted to blasphemy and the church was "under attack by persecutors".
He encouraged supporters to hold demonstrations.
Bail refused

The trial has sparked a controversy among many Russians, as all three have been denied requests for bail while awaiting trial - even though two have young children.
The head of Russia's oldest human rights group, the Moscow Helsinki Group, has called on authorities to free the defendants.
"They must be released, they must be apologised to, they must receive compensation for the time they've spent in custody," Lyudmila Alekseyeva said. "Is it sane to keep people under arrest for such a petty offence? Even more so given some of them have small children.
"The court's decision will depend not on the law, but on what the Kremlin wants," she added.
Supporters of the group chanted "Girls, we're with you!" and "Victory!" as the handcuffed women were led into the couthouse on 30 July.
More than 100 prominent Russian actors, directors and musicians have urged the authorities to release the three.
Inspired by 90s-era US punk bands such as Bikini Kill and Riot Grrl, Pussy Riot appeared on the musical scene in 2011 with angry lyrics that went viral.
Their trademark is multi-coloured balaclavas.