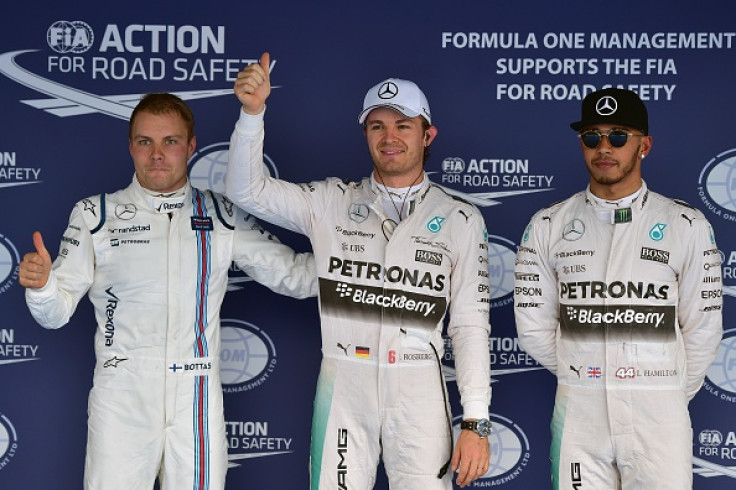 Nico Rosberg grabbed his third pole position of the season at the Sochi Autodrom in fine fashion, after reaching the fastest times in all three qualifying sessions. Lewis Hamilton, who is in second place, simply did not have an answer to his teammate's pace.
The Williams team is back in form, in a circuit that clearly suits the car, with Valtteri Bottas yet again out-qualifying his teammate Felipe Massa, who surprisingly struggled and only managed 15th place. The Finn also beat the Ferrari duo of Sebastian Vettel and Kimi Räikkönen, who are fourth and fifth respectively.
It was a relatively straightforward qualifying session, but most of the drivers were still struggling to find the perfect balance with their cars due to the lack of running in all three practice sessions. After the diesel spill delayed FP1 and rain interrupted FP2, while FP3 was cut short after Carlos Sainz suffered a massive crash. The Spaniard was not injuried and could still race tomorrow, if the doctors permit.
Force India continued their impressive form with both the drivers qualifying in the top 10. Toro Rosso's Russian driver Daniil Kvyat, though, failed to thrill the home crowd after failing to qualify for the final session and will start 11th on the grid.
The McLaren-Honda team continues their struggle with both drivers opting not to use the new upgraded engines this weekend. But since Fernando Alonso used the new engine on Friday during the practice sessions, he will serve a 35-place grid penalty, that will see him start at the back of the grid. Teammate Jenson Button was surprised with his qualifying run after putting his car in 13th place.
The Mercedes duo look strong and will be favourites going into the race, the battle between them will be exciting with Hamilton starting in second, something that has not happened too many times this season. The Valtteri Bottas' Williams will battle the Ferrari duo for the final podium spot.
Where to watch live
The race starts at 12pm BST (Sunday) with Sky Sports F1 and Sky Sports F1 HD providing live TV coverage. Real-time Internet updates are available on the Live Timing section of the sport's official website.
Live updates will be available on the IBTimes UK website from 11am BST onwards.
Drivers' reaction
Nico Rosberg (Mercedes) – P1: "For sure I'm very happy. It's been a difficult weekend actually because of the little running we got, we didn't get much practice. Qualifying worked out really well, we found a really good balance on the car, thanks to my engineers as well. We had to guess a little bit where it was going to be and it all worked out well, felt comfortable. Got some good laps in and very happy with that."
Lewis Hamilton (Mercedes) – P2: "I did go for my second lap, I just didn't finish it. I went off at Turn 13. Difficult weekend, I think for everyone. Nico did a great job on his lap and I'm perfectly happy with the balance I had. Overall I'm really happy for the team. As we saw last year this isn't such a bad race for P2."
Valtteri Bottas (Williams) – P3: "It seems like it, at least today [on having the edge over Ferrari]. We were quite competitive and it's a good to be third, it's a good place to start here. It's been a tricky weekend for everyone, but we really managed to use practice three well, at least the part we had, and managed to get some good laps in qualifying consistently. Pleased with the laps and what we did as a team."
Sebastian Vettel (Ferrari) – P4: "I'm not entirely happy: I think that qualifying was close and third place was possible. We started very well in qualifying, needing only one lap in Q1; then… I don't know, as qualifying progressed I lost a little bit of feeling and didn't manage to put the lap together in the end. Maybe there's some ideas why this happened, we'll have to have a look at that; but to be honest it's irrelevant because tomorrow it's a different format, a race with many laps, so we have to see what the day brings."
Kimi Raikkonen (Ferrari) – P5: "So far, it has been a compromise weekend because of the weather and many other things that happened. Qualifying today was not the easiest one, it was a bit tricky to get temperature in the tires as we wanted in just one lap, because of the cold conditions. When the tires were working, though, the handling of the car was pretty good. In the last run in Q3 there was no time to do more than one lap, the start of the lap was OK, but then I went wide and lost significant time. Tomorrow in the race it will be a bit unknown for everybody: obviously, we don't have enough data from the long runs, so it's hard to know what is going to happen, but I think we should be OK."
Top 10 results of qualifying session from the Sochi Autodrom, Russia:
N Rosberg (GER) Mercedes 1:37.113
LC Hamilton (GBR) Mercedes 1:37.433
V Bottas (FIN) Williams 1:37.912
S Vettel (GER) Ferrari 1:37.965
K Raikkonen (FIN) Ferrari 1:38.348
N Hulkenburg (GER) Force India 1:38.659
S Perez (MEX) Force India 1:38.691
R Grosjean (FRA) Lotus 1:38.787
M Verstappen (NED) Toro Rosso 1:38.924
D Ricciardo (AUS) Red Bull 1:39.728