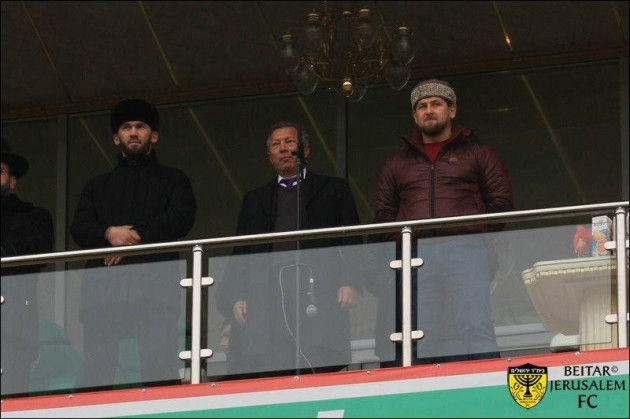 A Russian billionaire has flown an entire football team from Israel to Chechnya on a private jet so that he could take a close look at the players and decide whether to buy the club.
Business mogul Telman Ismailov is reportedly evaluating the acquisition of the Beitar Jerusalem football team from a friend, the Russian-Israeli businessman Arkady Gaydamak, who currently owns the club.
However, instead of travelling to Israel to see the team for himself, he decided to organise a friendly match on home turf.
Ismailov offered to fly Beitar's players from Jerusalem in his private jet to the Chechen capital of Grozny, where they would play against the local Terek Grozny team
Burdened with heavy financial problems, Beitar accepted immediately, despite a warning by the Israeli National Security Council not to visit Chechnya and a league match to play back in Israel only three days later.
"Everybody knows what terrible financial shape the club is in. If this three-day trip could help improve the situation, it would certainly be worthwhile," Beitar's assistant coach Jan Talesnikov told Haaretz.
A total of 50 team and staff landed at Grozny airport amid high security measures.
The Israeli National Security Council was concerned the team might encounter a variety of dangers in the civil-war torn, predominantly Muslim region.
However, the trip passed off without any difficulty.
"As for my first impression, I think the situation in Grozny resembles Israel. A lot of people in world believe that bombs permanently explode and terrorist attacks are committed in Israel, but in reality we have a peaceful life: Arabs and Jews communicate every day. It seems here is the same situation," one of the players told local news website Vestnik Kavkaza.
In Grozny, Beitar's players attended the founding of a new synagogue and other events held by the local Jewish community.
The match ended goalless.
It is not known if the performance has convinced Azerbaijan-born Ismailov to buy the club.
With estimated assets of $2bn (£1.2bn) Ismailov is known for his friendships with celebrities and VIPs, and his lavish parties.
Said to be close to, among the others, Sharon Stone, Richard Gere and Paris Hilton, Ismailov once paid Jennifer Lopez $1.4m to sing at one of his parties for just ten minutes.