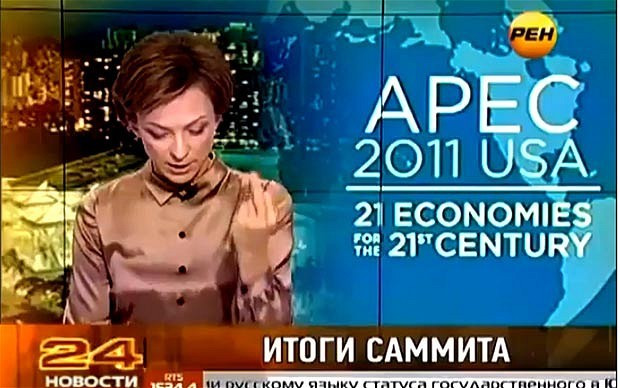 The Russian newsreader who was fired after having raised her middle finger at U.S. President Barack Obama during a live broadcast defended herself on Monday, claiming her gesture was not an insult but an indication to the television crew.
In an interview with The Daily Telegraph, Tatyana Limanova, who is an award winning news anchor for Russia's REN TV, insists she had not been brought up to make rude gestures and the incident was just a misunderstanding.
"The world is unfair," she told The Daily Telegraph. "I did not consider it necessary to justify myself (at the time) because it was so absurd."
She added that most people in Russia reacted to it with humour, taking it as a curious incident rather than a political prank. She also said it was "unpleasant" for a private person like her to discover she had become known worldwide for the incident.
"I really did not enjoy the celebrity. I am quite a private person and I was happy to remain famous in only narrow professional circles. It was unpleasant."
Speaking about her sacking by Russia's REN TV channel she added: "They summoned me on the day it happened for an explanatory chat and said they would be considering my future and then thought about it for a long time. After it went viral on the internet they fired me."
Last week, the video footage of her unambiguously raising her left arm and "fingering" or "flipping the bird" to the camera after referring to the US president's name during a news broadcast went viral on the internet.
"I made that gesture with my finger to signal to them to raise the autocue," she justifies herself. "I was irritated but I did not know that I was in shot. It could have happened after I had said any word but happened to occur after I had just spoken about Barack Obama."
Miss Limanova insisted she had no cause to insult Mr Obama. "I have a completely neutral view of him," she said. She also utterly rejected the idea that her gesture was a sign of anti-Americanism. "Russians do not hate Americans and the Kremlin did not phone me and tell me to do it," she added, clearly exasperated.
REN TV has traditionally been perceived as a more liberal channel in a country where TV content is tightly controlled by the state