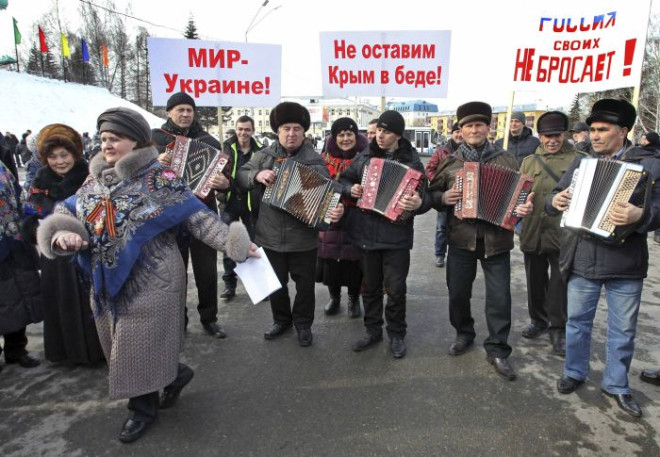 Russia's main stock index plunged to its lowest level since October 2009 only a couple of days before Crimea holds a referendum on whether it should break away from embattled Ukraine or join Russia.
The Micex index tanked by 5% to 1,191 points while the dollar-denominated RTS index plummeted by the near same amount to 1,023 points, as investors expect the West to impose sanctions against the country for its involvement with the Ukraine crisis.
Over the last month, Russian stocks have lost nearly 20% of their value after President Vladimir Putin received authorisation to send troops into Ukraine and pro-Russian authorities in Crimea.
The Russian rouble has also fallen by 0.1% to 36.66 against the dollar.
On 13 March, Goldman Sachs said that Russians have pulled $45bn (£27bn, €32bn) of capital out from the country amid President Vladimir Putin's military reaction to the Ukraine crisis and the threat of economic sanctions from the European Union and US.
Goldman analysts Clemens Grafe and Andrew Matheny cut their 2014 growth forecast for Russia to 1% partly as a result of the rising capital outflows in the year to March 2013, which are 60% higher than a year before. Their previous estimate was 3%.
"Economic activity in Russia is likely to be strongly affected by the current political tensions relating to recent developments in Ukraine and Crimea," said the Goldman research note.
"The main transmission mechanism will, in our view, work through a shock to domestic confidence, resulting in lower investment, a continuation of the destocking cycle and higher capital outflows.
"In turn, those will lead to a tightening of domestic financial conditions. The uncertainty regarding our forecast is necessarily large."