Ryan Giggs Praises Xavi After Spaniard Equals His 151 Champions League Match Record
Ryan Giggs Praises Xavi Hernandez After The Spaniard Equalised His 151 Champions League Appearances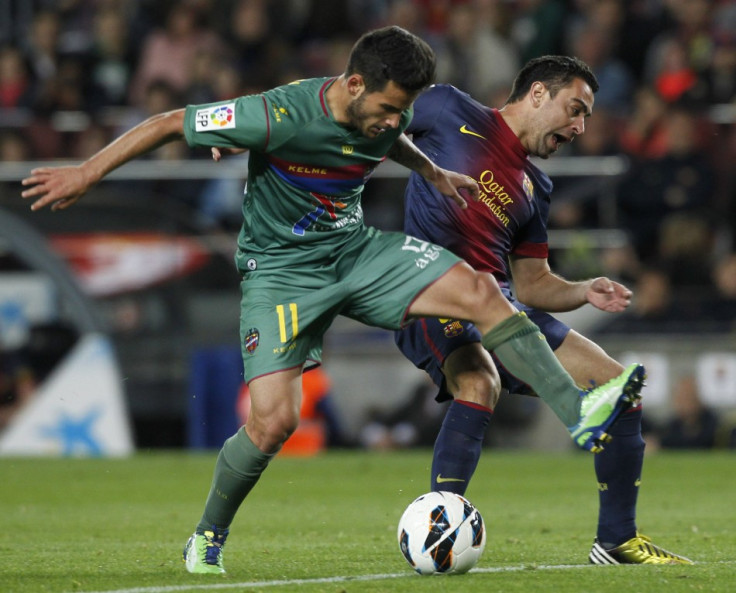 Manchester United assistant manager Ryan Giggs has lavished praised Xavi Hernandez after the Barcelona midfielder equalled his record of reaching 151 Champions League appearances during the victory over Apoel on Tuesday 25 November.
Even though the Spaniard started the game on the bench, Luis Enrique handed him the opportunity to draw level with the United legend during the second half.
Curiously, United boss Louis van Gaal was the manager who handed Xavi his Champions League debut in 1998, during a game against the Premier League giants at Old Trafford.
Reports during the summer claimed the Dutch boss even approached the player to reunite with him at Old Trafford as the Spaniard was considering a move away from the Camp Nou.
Xavi recently refused to confirm whether United approached him but said he rejected a move to another big European club in the summer, as he did not want to play for a side that could eventually rival Barcelona.
It appears Van Gaal would have been just as happy as Giggs to have the Spaniard in his ranks.
Nevertheless, the United assistant boss has hailed Xavi, drawing comparisons with ex-teammate Paul Scholes.
"He reminded me a lot of Paul Scholes but Xavi was definitely better at tackling," Giggs said to Mundo Deportivo.
"For me he is like a chess player who is always two or three moves ahead. He is one of the greatest footballers in one of the best teams of all time.
"It's always disappointing to lose a record but to share it with someone of Xavi's calibre certainly softens the blow."
And even though Giggs saw Xavi's skills first hand during United's Champions League final defeats against Barcelona in both 2009 and 2011, he has congratulated him for his achievements.
Giggs said: "What surprised me most in the games I played against him was the way in which he caressed the ball and protected it, keeping if far away from his opponents. It seemed as if he always took the right decision at the right time.
"What I most liked about him was his intelligence on the pitch and, although I don't know him very well, the humility with which he carried himself.
"He has the qualities to be a coach because of the intelligence and leadership skills he has acquired during his career."
© Copyright IBTimes 2023. All rights reserved.