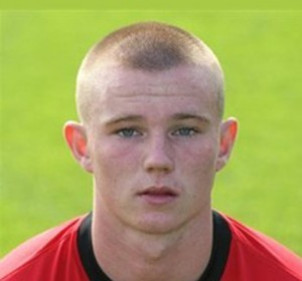 Manchester United midfielder Ryan Tunnicliffe has been banned from driving for 18 months after admitting being nearly twice the drink-drive limit when he crashed his £60,000 Range Rover.
Tunnicliffe, 19, pleaded guilty to the charge at Bury magistrates court. He was fined a further £800 following the crash on 13 October.
The ban could be reduced by four-months if the midfielder attends a drink-driving rehabilitation course.
District Judge Paul Richardson told Tunnicliffe: "You are a well-paid athlete and the fine reflects that. It is a reflection of your income."
Tunnicliffe admitted crashing his luxury Land Rover vehicle into a unoccupied parked van after drinking heavily the night before with his family.
No one was hurt in the incident, but the Ford Transit van was shunted five metres (16.4ft) into a wall of a house in Heywood, Greater Manchester.
The midfielder phoned the police immediately after the accident. A police officer was reported to have been able to smell alcohol on his breath.
Chris Proctor, defending, said: "My instructions are that he had consumed alcohol the evening before and unfortunately, in an error of judgment on his part, he thought he would be below the legal limit and he was able to drive.
"Generally he is a very sensible young man. He is a professional footballer and this incident happened in an international break in the calendar.
"He had some drinks with his family. He generally does not tend to drink alcohol because of his footballing commitments.
"The third parties in this case, his family and club, are very disappointed at what has happened."
Judge Richardson added: "I appreciate what is said on your behalf that you did not drink in daylight hours on that day.
"I think you are genuinely contrite about that and I am going to give you full credit for your guilty plea and that you had the courage to phone the police yourself."
Tunncliffe made his debut for United against Newcastle United in the Capital One Cup in September. His father netted £10,000 after the appearance as he placed a £100 bet his son would one day play for United when he was nine-years-old.
He spent last year on loan at Peterborough United, making 26 appearances.