Final standings:
Graeme McDowell beat Jordan Spieth 2&1
Henrik Stenson lost to Patrick Reed 1UP
Rory McIlroy beat Rickie Fowler 5&4
Justin Rose halved with Hunter Mahan
Stephen Gallacher lost to Phil Mickelson 3&1
Martin Kaymer beat Bubba Watson 4&2
Thomas Bjorn lost to Matt Kuchar 4&3
Sergio Garcia beat Jim Furyk 1up
Ian Poulter halved with Webb Simpson
Jamie Donaldson beat Keegan Bradley 4&3
Lee Westwood lost to Jimmy Walker 3&2
Victor Dubuisson v Zach Johnson - A/S after 15
5:20: Paul McGinley speaking after Europe's victory:
Proud is how I feel. Everyone has been huge - the player, the caddies, the vice-captains, all the backroom staff - it has been a huge team effort.
The pleasure you get when you look at the expression on a face like Jamie's. A big factor was coming out jumping in the foursomes, wave after wave after wave. We had a plan and structure with three or four big ideas and we kept coming back to those. That proved right.
This sense of pride for the players and the happiness of the people in the stands, that is what you do it for. It is not the same as playing and I told the players to enjoy it because these days go quick."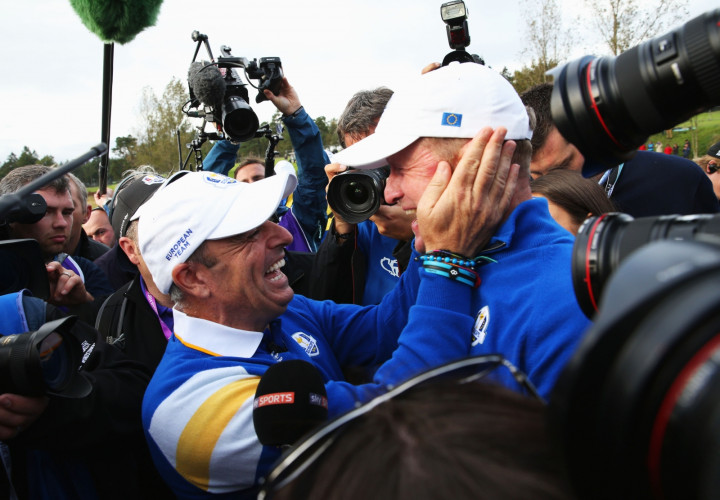 4:35: And that's it! Europe have successfully defended the Ryder Cup at Gleneagles, their eighth success in 10 years. Look, there's an official tweet and everything!
And there it is!!! #GoEurope pic.twitter.com/q6muJMLy9g
— Ryder Cup Team EUR (@rydercupEUROPE) September 28, 2014
4:30: The celebrations are underway after an absolutely wonderful drive from Donaldson that drops a foot from the hole. Paul McGinley is high fiving his staff and goes over to shake Tom Watson's hand as Donaldson walks over to the green.
4:27: Brilliant from Garcia who wins the 16th as his measured shot trickles into the hole to cap a wonderful couple of rounds for the Spaniard.
Europe retain the Ryder Cup
4:24: But it trickles agonisingly wide! But that half point is enough for Europe retain the Ryder Cup with an insurmountable 14 points.
4:22: Donaldson can win it for Europe here on 14 if he can sink this birdie...
4:19: Excellent from Garcia who makes his birdie at 15 and levels up after a miss from Furyk. The United States will not give up here but they are running out of time.
4:16: Remember, Europe need just half a point to secure victory here. With Jamie Donaldson 4 up after 13 against Keegan Bradley, there are closing in.
4:13: Ian Poulter is back level with Simpson after missing a straight forward birdie on the 14th.
4:09: A fantastic drive from Garcia who lifts the ball onto the green appears to give him the edge of Furyk on 15. But the American responds with an even better effort. Garcia is currently one down.
4:07: Lee Westwood is running out of time to pull it back against Jimmy Walker who is three up after 16.
4:05: Donaldson and Bradley settle for a half on the 13th
Justin Rose and Keegan Mahan - match halved - Europe 13½-9½ USA
3:57: Hunter Mahan misses a huge shot and Justin Rose will earn a a half point for Europe. It was a truly terrible chipped effort from the American from the rough that crossed the green completely and allowed Rose to close the gap. Europe now lead 13½-9½ and are within a point of victory.
Phil Mickelson beats Stephen Gallacher 3 & 1 - Europe 13-9 USA
3:55: And Phil Mickelson has seen off the challenge of Stephen Gallacher to pull another point back for the USA.
Martin Kaymer Beats Bubba Watson 4 & 2 - Europe 13-8 USA
3:52: Kaymer seals another point for Europe! The German chips in on the 16th to seal a 4 & 2 and Europe now need just one more point. Fantastic shot from Kaymer.
3:50: It's decent, but not good enough from the young Scot who will score a bogey.
3:48: Stephen Gallacher must produce something special from the bunker to deny Mickelson on 17.
3:45: Phil Mickelson sinks a birdie and moves two up after 16 against Stephen Gallacher. Should the US seal another point the momentum in this contest could dramatically swing.
Patrick Reed beats Henrik Stenson - Europe 12-7 USA
3:40: Stenson has missed! Reed seals the USA's first point of the day to bring them up to seven.
3:38: But he misses! Reed has to settle for a birdie after his attempt for an eagle rolled just astray of the hole. Stenson can putt from four yards out to split the point.
3:35: On the par 5 18th Reed hits a beauty of a second shot and has a wonderful chance to sink an eagle.
3:30: Stenson and Reed have shared an absorbing battle throughout the day. The pair have moved onto the 18th to settle this.
3:28: Garcia guides a measured putt across the green into the hole on the 11th for par. Jim Furyk can still extend his lead with a birdie but hie misses and has to settle for half!
3:22: Europe are edging ever closer to retaining the trophy. Here's how it stands:
Graeme McDowell beat Jordan Spieth 2&1
Henrik Stenson v Patrick Reed - A/S after 16
Rory McIlroy beat Rickie Fowler 5&4
Justin Rose v Hunter Mahan - USA 1 up after 15
Stephen Gallacher v Phil Mickelson - A/S after 14
Martin Kaymer v Bubba Watson - Europe 4 up after 13
Thomas Bjorn v Matt Kuchar - USA 3 up after 12
Sergio Garcia v Jim Furyk - USA 1 up after 10
Ian Poulter v Webb Simpson - Europe 1 up after 10
Jamie Donaldson v Keegan Bradley - Europe 1 up after 8
Lee Westwood v Jimmy Walker - USA 1 up after 8
Victor Dubuisson v Zach Johnson - A/S after 6
Graeme McDowell Beats Jordan Spieth 2 & 1 - Europe 12-6 USA
3:16: And McDowell has done it! A superb fightback from the Northern Irishman who defeats Jordan Spieth 2 & 1. Europe now need just two more points to retain the Ryder Cup.
3:14: McDowell nearly finds the birdie from the bunker! Fantastic effort, but it rolls over the hole and wide. He can win it on his next shot.
3:12: McDowell lumps his tee shot directly into the bunker. Can Spieth capitalise? He has thechance to claim another birdie on his second but it drifts just too far wide.
3:08: Jordan Spieth fightsing back against McDowell. He can sink a very tricky 15-footer to win the 16th and move to just one down, but it falls just short. It;s been an absorbing contest between these two today as they move onto the par 3 17th.
3:04: Bjorn wins the 11th but he still trails three down to Kuchar. This might be one that is out of Europe's grasp. Patrick Reed, Jim Furyk and Jimmy Walker are the only other Americans leading at this point, all of which be a sender margin.
2:59: Speaking to Sky Sports, McIlroy explained the final day of the Ryder Cup lifted him more than in any other majors this year.
I was probably more up for this day than I was for the final two days of the majors this year. There was no option but to win. All week it has been a pleasure to play in front of these fans and these crowds. It's been amazing and I'm going to go and cheer on the rest of the boys now."
Rory McIlroy beats Rickie Fowler 5 & 4 - Europe 11-6 USA
2:55: And he does it! Europe lead 11-6 after McIlroy seals his superb 5 & 4 against Rickie Fowler, who was blown away by the world number one today.
2:53: McIlroy, on the four par 14th, can get the first point on the board today if he wins this hole.
2:50: Remember when McDowell was trailing by four to Spieth? No, me neither. The Northern Irishman has moved two up after the 15th as his spectacular turn around gains momentum at the right time.
2:46: Justin Rose finds the greeen with one of the shots of the tournament. From a horrendous position in the rough at the base of a tree the Englishman digs out a superb effort, lifting to within a couple of feet of the hole.
2:42: Sublime yet again from McIlroy. It's another birdie on the 13th, he's seventh today to move 5 up.
2:38: Brilliant from Gallacher! He calmly claims the 11th hole to draw level with Mickelson. Just before that however Justin Rose was unable to make it five straight wins, missing a short putt on the 12th to share the point with Hunter Mahan which leaves him trailing.
Latest Scores:
Graeme McDowell v Jordan Spieth - Europe 1 up after 14
Henrik Stenson v Patrick Reed - USA 1 up after 13
Rory McIlroy v Rickie Fowler - Europe 4 up after 12
Justin Rose v Hunter Mahan - A/S after 10
Stephen Gallacher v Phil Mickelson - USA 1 up after 10
Martin Kaymer v Bubba Watson - Europe 4 up after 9
Thomas Bjorn v Matt Kuchar - USA 3 up after 8
Sergio Garcia v Jim Furyk - USA one up after 7
Ian Poulter v Webb Simpson - USA one up after 6
Jamie Donaldson v Keegan Bradley - Eruope 1 up after 5
Lee Westwood v Jimmy Walker - USA 1UP after 4
Victor Dubuisson v Zach Johnson - A/S after 3
2:35: McDowell confidently putts to maintain his lead over Spieth after 14. It's the first time he has been ahead all day, he won't want to allow the young American back in again.
2:32: As things stand, Europe will retain the Ryder Cup 15-13. United States have fought back well today but it won't be enough should things remain as they are.
2:30: Stephen Gallacher sinks a measured putt to go back to one down against Phil Mickelson.
2:26: An outstanding eagle from Kuchar sees him extend his lead over Thomas Bjorn to three from 10.
2:23: McDowell needs two to win the 12th and move ahead of Speith; he nearly does it in one but sees the first effort trickle over the hole. No matter as the point is secured.
2:22: Spieth tries to recover from the bunker but it goes horribly wrong, barely making the green before rolling back into the rough, This hole is surely McDowell's now, one that will move him into the lead.
Latest Scores:
Europe 10-6 USA - Europe need 14 to retain trophy:
Graeme McDowell v Jordan Spieth - A/S after 12
Henrik Stenson v Patrick Reed - USA 1 up after 11
Rory McIlroy v Rickie Fowler - Europe 4 up after 11
Justin Rose v Hunter Mahan - USA 1 up after 10
Stephen Gallacher v Phil Mickelson - USA 2 up after 8
Martin Kaymer v Bubba Watson - Europe 4 up after 8
Thomas Bjorn v Matt Kuchar - USA 2 up after 7
Sergio Garcia v Jim Furyk - A/S after 6
Ian Poulter v Webb Simpson - A/S after 5
Jamie Donaldson v Keegan Bradley - A/S after 4
Lee Westwood v Jimmy Walker - USA 1UP after 3
Victor Dubuisson v Zach Johnson - A/S after 2
2:20: Patrick Reed's battle with Henrik Stenson and the Gleneagles home crowd takes another turn as the American moves two up after 12.
2:18: And he does! McDowell lands a measured effort on the green.
2:17: Jordan Spieth was one of the most composed men on the course this morning but the youngster is showing real nerves at this stage, lifting his second shot on ther par four 13th straight into the bunker. McDowell will look to capitalise.
2:14: And now Rose has the lead! After trailing to Mahan four after seven the Englishman has clawed his way back magnificently after 10. He's won the last three holes in terrific fashion, the momentum is building.
2:13: McIlory in cruise control as he maintains his four point gap after 11 over Fowler.
2:10: McDowell levels! Spieth misses a seeimgly simple putt from seven yards that would have halved the game, but watched on in agony as it trickled over the hole! That four point lead has been wiped off the board, it's all level at 12.
2:05: Ian Poulter gets too much on his putt on the 10th,
2:02: McDowell is coming back! Spieth now leads one from 11 after the his opponent rolled in from eight feet.
1:53: And Fowler halves to rescue a point on the ninth, McIlroy's four point advantage stands strong.
1:49: McIlroy sets up yet another brilliant birdie for himself on the ninth. Meanwhile Kuchar restores his lead against Bjorn at the 5th. He's one up on the Dane.
1:47: Stenson draws level with Reed in the ninth and now Garcia has levelled against Furyk! Excellent few minutes from Europe who have halted the American momentum.
1:46: Speith misses the putt! He pushes wide to the left and now his lead has been reduced to just two from 10. McDowell catching up.
1:45: Justin Rose reduces the deficit against Hunter Mahan with a birdie, the Englishman now trails three from eight.
1:41: Much to the delight of European fans, Patrick Reed finds the pond on the ninth, handing the initiative back to Stenson.
1:38: Scores as they stand:
Graeme McDowell v Jordan Spieth - USA 3 up after 8
Henrik Stenson v Patrick Reed - USA 1 up after 8
Rory McIlroy v Rickie Fowler - Europe 4 up after 8
Justin Rose v Hunter Mahan - USA 4 up after 7
Stephen Gallacher v Phil Mickelson - USA 1 up after 6
Martin Kaymer v Bubba Watson - Europe 3 up afer 5
1:36: Apart from McIlroy's dominance of Fowler, the United States re building a bit of momentum here, epitomised perhaps by the unerring performances of Jordan Spieth and the bravado of Patrick Reed.
1:35: Bubba Watson is struggling to get going again; he is three down after five as Martin Kaymer sinks another five.
1:33: Rose sinks a beautiful birdie on the seventh, but it is only enough to earn a half with Keegan Mahan in splendid form. He still holds a four point lead.
1:30: His second shot on the par four eighth, McIlroy eases out of the rough but slightly overhits and looks relieved to see his effort stop just short of trickling into the green-side bunker.
1:28: Ian Poulter bogeys on the first to hand the initiative to Zach Johnson. Elsewhere Phil Mickelson hauls back Stephen Gallacher, levelling things after five.
1:25: The pantomime villain (if you're European) Patrick Reed has recovered brilliantly from his poor start and moves one up against Stenson after the latter's birdie attempt veered just to the left. As you can imagine, Reed is quite pleased with that and let's the crowd now.
1:22: Martin Kaymer capitalises on a bogey from Bubba Watson to move two up from four. Elsewhere Sergio Garcia has a golden chance to level up after Jim Furyk lands his par five second into the pond.
1:19: McDowell reduces the gap between him and Spieth, winning the eighth to shorten the American's lead to three. Like McDowell, Rose has suffered a poor start here and it has just got worse with Hunter Mahan securing another birdie to go four up from six.
1:16: Rickie Fowler needs to start a comeback now on the seventh. McIlroy lifts his first shot clear of the trees but drags out wide of the green. Fowler meanwhile landed square in the fairway and can make up some ground here.
1:14: Jim Furyk goes one up after one against Sergio Garcia.
1:12: Reed Brilliantly saves a half on seven against Stenson, cueing a rather enthusiastic response from the American who gives a bit back to the mosty-European crowd with a bit of shushing and fist pumping.
1:06: Fowler has to produce something magic to haul back McIlroy on the sixth, and almost does with a cute chip shot that rolls over the hole, but refuses to drop in. The Northern Irishman follows that up by sinking a wonderful birdie from 15 feet. Fantastically measured, his confidence shows no sign of dimishing any time today. Five up from six.
1:04: Superb again from McIlroy on the par three six, drivng his tee to within 15 feet of the hole. Fowler cannot even make the green.
12:59: Patrick Redd has recovered from that miserable start and has drawn level after Henrik Stenson's bogey.
12:57: Sublime start from McIlroy. He is four up after five after another birdie. Fowler is fading fast.
12:52: So unlucky from Spieth! He chips a wonderful effort that rolls across the lip of the hole and back out. McDowell has the chance to pull a shot back but again his aim is off and the American remains three up.
12:50: With six pairings underway, Europe hold the slightest of leads so far.
Graeme McDowell v Jordan Spieth - USA 3 up after 5
Henrik Stenson v Patrick Reed - Europe 1 up after 4
Rory McIlroy v Rickie Fowler - Europe 3 up after 4
Justin Rose v Hunter Mahan - USA 2 up after 2
Stephen Gallacher v Phil Mickelson - Europe 1 up after 2
Martin Kaymer v Bubba Watson - A/S after 1
12:47: Oh dear, another horrible hit from Patrick Reed as he sends his effort miles off the line. Stenson can two up.
12:45: Rickie Fowler shows a glimmer of magic with a superb chip to save bar on the the fourth and Halt McIlroy. For now.
12:41: Another missed putt from Graeme McDowell allows Jordan Spieth to extend his lead to three points after five holes. The debutant has been relatively untroubled so far. Stenson meanwhile has maintained his point advantage over Reed, who has recovered from that nightmare second, after four.
Rory McIlroy three up from thre against Rickie Fowler
Hunter Mahan two up from two against Justin Rose
12:36: After a spectacular first two days Justin Rose is off to a slow start here. He is two down already after Mahan birdies to go two up.
12:33: Mickelson missed his birdie from six feet out! Excellent chance for Gallacher to take an early lead here. But he passes it up! The Scot's effort trickles around the lip of the hole and back out. Point shared after the first hole.
12:30: Asit stands, Europe are two up and two down in the opening four matches of the morning with Rory McIlroy and Henrik Stenson taking early advantages.
12:27: Stephen Gallacher and Phil Mickelson are both out, fresh from a day off yesterday. It's a very encouraging start from the young Scot, who finds the green on his second shot to leave him poised for the birdie.
12:24: Fowler can only make a par five on the second and McIlroy takes full advantage to extend his lead.
Rory McIlroy two up from two against Rickie Fowler
Jordan Spieth two up from three against Graeme McDowell
12:22: Jordan Spieth moves two up after three, putting from close range after McDowell missed for par.
Hunter Mahan one up after one against Justin Rose
12:21: Rose has to birdie from the bnker to half his first hole. He can't however and Hunter Mahan takes the first point.
Henrik Stenson one up after two against Patrick Reed
12:18: Reed has made an awful mess of this second hole and Stenson takes the point.
12:16: Rose tries to lift his shot over the bunker but can only find the sand. He looks like he may be in early trouble too as Mahan effortlessly finds the green on his second, dropping the ball a couple of feet from the whole for a probable birdie.
12:13: Hunter Mahan and Justin Rose have made their way out for the four match of the morning. Mahan keeps his dead centre while Rose's drive drifts just into the left of the rough.
Rory McIlroy one up from one v Rickie Fowler
12:11: Oh dear. Fowler makes a complete hash of his chipped effort from the edge of the green, looking at the turf in disdain as McIlroy prepares to sink a birdie. He obliges, and takes the lead.
Jordan Spieth one up after two v Graeme McDowell
12:09: Jordan Spieth wins the first hole of the day, rolling a birdie in from eight feet out.
12:07: Fowler brilliantly digs himself out of trouble, finding the edge if the green but McIlroy goes on better set himself up for the birdie.
12:00: Rory McIlory and Rickie Fowler are out for what is widely considered the match of the afternoon. Fowler's drive veers off to the left just inside the rough, but McIlroy drives his down the inside right of the fairway. A straight forward forward wedge should see the Northern Irishman find the green with little problem.
11:58: Stenson deftly lifs it out of the bunker on his third shot, stopping about four feet from the hole. Reed's chip is even better however, leaving the ball a yard out. Stenson's keeps his cool however and putts in to leave it all square after one.
11:54: Reed takes aim from the rough for his secodn shot but drops it into the bunker in almost the exaxt same spot Spieth did on his second shot. Stenson has the chance to take an an advantage but he joins the American in the sand.
11:52: On he par 5 second Spieth slices his tee horribly wide to the right, completely missing the fairway and dropping it 15 feet into the rough. McDowell also finds the rough, but is considerly closer in than his opponent.
11:51: From six feet out, Spieth makes no mistake and the first point of the morning is halved for par.
11:49: Patrick Reed tees off in the morning's second pairing, but sprays his drive wide of the fairway and finds the rough. Henrik Stenson enjoys a better start, driving dead centre.
11:47: McDowell looks to sink a birdie from 15 feet, but his shot trickles around the lip of the hole and back out! So unlucky. Spieth can now finish for par from about 6 feet out.
11:46: Spieth lifts it out of the bunker, finding the green some 6 or 7 feet from the hole.
11:45: McDowell's impressive second shot left him 15 feet from the hole. Should he sink that, Spieth will have to produce something very special to keep up with his opponent.
11:43: Spieth opts for an near-identical swing but his falls short of the green, trickling back into the bunker. Advantage McDowell.
11:42: McDowell swings for his second shot, lifts it over the bunker and the rough and lands it on the green, perfectly placed for a birdie! Pressure on Spieth now.
11:36: Here we go then! Jordan Spieth tees off, opting for the left of the fairway. McDowell, cheered on by a vibrant crowd at Gleneagles drives straight but his effort falls short of his opponent's.
11:30: Graeme McDowell and American debutant Jordan Spieth will get us underway. Both are unbeaten at Gleneagles. There is a terrific atmosphere on the green as both men make their way out.
11:22: There are 12 points to play for in today's singles with some thrilling match ups to look forward to. Here are those pairings and their allotted tee times.
11:36: Graeme McDowell v Jordan Spieth
11:48: Henrik Stenson v Patrick Reed
12:00: Rory McIlroy v Rickie Fowler
12:12: Justin Rose v Hunter Mahan
12:24: Stephen Gallacher v Phil Mickelson
12:36: Martin Kaymer v Bubba Watson
12:48: Thomas Bjorn v Matt Kuchar
13:00: Sergio Garcia v Jim Furyk
13:12: Ian Poulter v Webb Simpson
13:24: Jamie Donaldson v Keegan Bradley
13:36: Lee Westwood v Jimmy Walker
13:48: Victor Dubuisson v Zach Johnson
11:15: Holding a 10-6 advantage heading into the final day, another Ryder Cup success looks to be within the grasp of Europe. But if Paul McGinley's side need any example of how a final day lead can be wiped off the board they need look no further than their success at Medinah two years. ago. That day it was the Americans who held the four point advantage. This time around, they are in need of their own Medinah miracle at Gleneagles