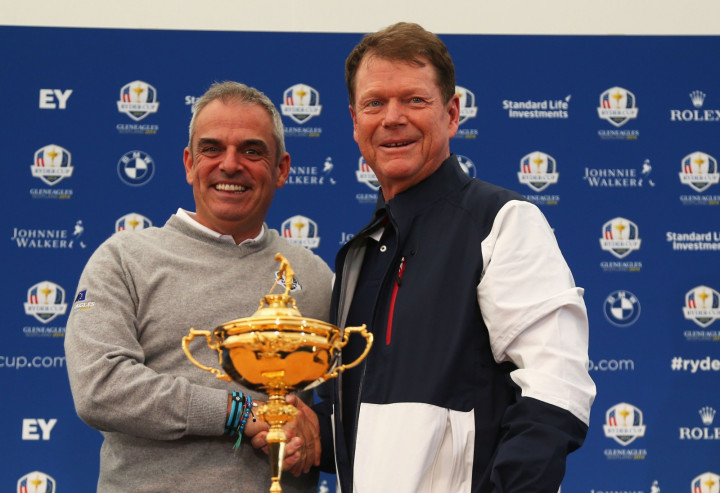 The Ryder Cup begins in earnest with the opening ceremony live from Gleneagles where captains Paul McGinley and Tom Watson will announce the opening fourballs pairings.
Where to Watch Live
The opening ceremony starts at 14:30 BST. Live coverage will be available on Sky Sports Ryder Cup HD and Sky 2.
Overview
The opening ceremony of the Ryder Cup is the traditional precursor to the start of competition on Friday.
Proceedings will begin with the players from both Europe and the United States being announced to the capacity crowd. Local servicemen will then raise a flag for every nation represented at the Ryder Cup, including the Flag of Europe.
Both McGinley and Watson will then begin their opening speeches, thanking the hospitality at Gleneagles, surmising their preparations for the three-day event and wishing good luck to both teams.
The pomp and circumstance will be replaced by the critical announcement of the opening fourballs pairing ahead of Friday morning. Captains McGinley and Watson will announce their groups simultaneously to create both drama and suspense ahead of the opening tee time of 07:35 BST.
Europe's plans to partner Northern Irish pair Rory McIlroy and Graeme McDowell have already been derailed after the latter claimed he could no longer play with the world No.1.
McIlroy could now be partnered with Ian Poulter, while McDowell may be forced to sit out the opening session after expressing his concern over the format. Elsewhere, home favourite and debutant Stephen Gallacher is expected is be named among the opening group.
USA skipper Tom Watson has been far more open regarding his fourballs pairings, with Phil Mickelson and Keegan Bradley set to be one of the four pairs, with Webb Simpson and Bubba Watson likely to be among the remaining groups.
What a captains say:
Paul McGinley: "We're pretty much on schedule where we need to be. It's been great. The interaction from the players has been great, and the caddies, as well.
"Caddies have given me a lot of information and very much on side, and I've obviously kept them very much a part of what we're doing. I've enjoyed the humour like we always do. That's one of the great things about a Ryder Cup is that sense of fun that we have behind the scenes."
Tom Watson: "There's a little bit of give and take here and there and discussion, who is going to play with whom; if one match is really successful, do we keep them together. If they are not successful, do we split them up.
"Those are the decisions that the captains make, and we don't know what those are going to be yet. We kind of have an idea of who is going to play with whom at the beginning, but after that you're coaching and you're captaining by the seat of your pants. That's where we are right now."