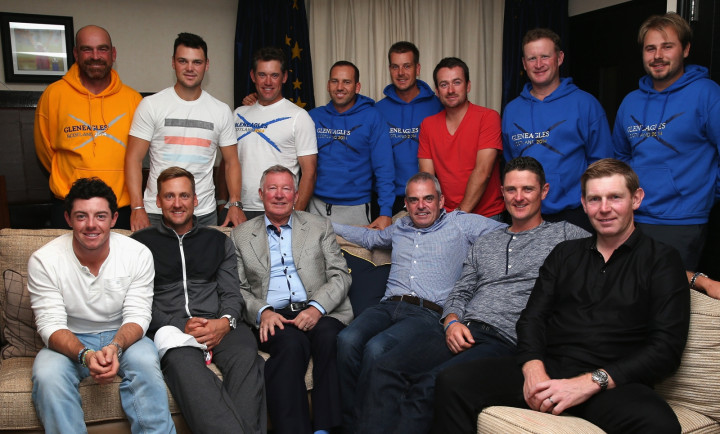 Former Manchester United manager Sir Alex Ferguson left Rory McIlroy "in a trance" after addressing Team Europe days ahead of their 2014 Ryder Cup challenge at Gleneagles
Captain Paul McGinley called upon the legendary manager to provide the sort of stirring speech that inspired United's players to 13 Premier League titles and two European Cups during Ferguson's trophy-laden spell at Old Trafford.
And the experience went down particularly well with world number one and United supporter McIlroy.
"For me being a Manchester United fan it was the highlight of the week so far," said McIlroy, who paraded the Claret Jug around Old Trafford at half time in United's opening game of the season, Sky Sports reports.
"I was just sitting there and looking up at him and I didn't take my eyes off him.
"I was sort of in this trance just listening to everything that he was saying and I'm sort of thinking, 'this is all the stuff that he's probably said to Manchester United teams over the years.'
"He told us a couple of stories, just of past experiences in some big games and some of the players that he managed, and it was a great evening. It was a really cool thing to be a part of."
Fellow Manchester United fan Graeme McDowell added: "It was fantastic to have Sir Alex in there. I felt like he was addressing 12 men going out on to the field at Old Trafford.
"As a United fan I enjoyed it immensely. He definitely gave us a few insights into things he would say to the lads getting them prepared for the big games.
"It was very inspiring. I think all the lads enjoyed it, even the non-United fans. Even Poults [Arsenal supporter Ian Poulter]!
"We had a lot of fun, it was a great atmosphere. He's one of my heroes and it was great to hear insight into a guy who was a great man-manager and got the most out of his team most weeks."
The US team arrived at Gleneagles on Monday looking to secure redemption following their capitulation at Medinah two years ago.
Tom Watson's side features seven of those were on the receiving end of Europe's fightback two years ago along with the quintet of Rickie Fowler, Jordan Spieth, Patrick Reed, Jimmy Walker and Hunter Mahan, who were spared the humiliation in Chicago.