Safer Internet Day , celebrating its tenth anniversary, coincides with the release of a survey revealing that just 29 percent of Britons lock their mobile phone.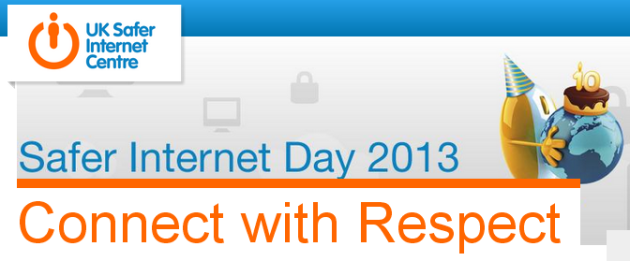 The theme for Safer Internet Day 2013 is Online Rights and Responsibilities with the solgan 'Connect with Respect'.
To mark the day and to highlight the lack of awareness of mobile phone security in the UK, Microsoft has released the results of a survey which found that less than a third of respondents use a PIN to lock their phone, yet 53 percent are worried about identity theft.
The survey was conducted globally and collected responses from more than 10,000 mobile phone users. The infographic at the bottom of the page outlines the UK-centric findings from the survey.
Of those surveyed, more than half (53 percent) said they worry about having their password and account information stolen, yet only 29 percent have a PIN to protect their device, and just 22 percent say they avoid using open Wi-Fi networks, which can potentially be used to gain access to connected devices.
Globally, UK mobile users are less safety conscious than those in other countries. Microsoft gave the UK an average safety score of 35.3 percent, less than the global average of 39.6, as measured by the Microsoft Computer Safety Index.
Valuable
Microsoft's chief online safety officer, Jacqueline Beauchere, said in response to the findings: "Mobile devices often have just as much, if not more, valuable personal information stored on them as a home computer, making mobile devices equally attractive to data-stealing criminals.
"The latest MCSI results demonstrate that no matter where or how people access the internet, exercising safer online habits is essential. There are steps that people can take and technologies that the can employ to help prevent them from becoming a victim."
These steps are much the same with mobile devices as with desktop computers and laptops, and include performing regular software updates - something Microsoft found less than a quarter of UK smartphone users to do, compared with 53 percent of PC users.
Other advice from Microsoft to stay safe online includes locking computers and user accounts with secure passwords, not using internet banking or shopping through a public Wi-Fi network, watching out for 'snoops' trying to see you enter your password or PIN, and to treat suspicious messages and offers that are too good to be true with caution.
Internet security firm F-Secure has also released a report about threats to internet security and how users can better protect themselves online.
'Vulnerabilities for gain, mischief, or very serious harm'
Allen Scott, UK country manager at F-Secure said: "Initiatives such as Safer Internet Day are vital in raising awareness of the very serious issues our connected world brings. Whilst the internet has changed the way we communicate with each other, access knowledge and consumer entertainment services, we need to better understand how to protect ourselves online.
"This is the first generation that have grown up with the internet and mobile devices as essential life-tools. With more devices, accessing more sites and more applications than ever before, there is an exponential rise in those that will exploit online vulnerabilities for gain, mischief, or very serious harm.
"Safer Internet Day is just one way we can ensure this, and future generations are equipped with the knowledge and tools they need to use the great global network to better themselves."