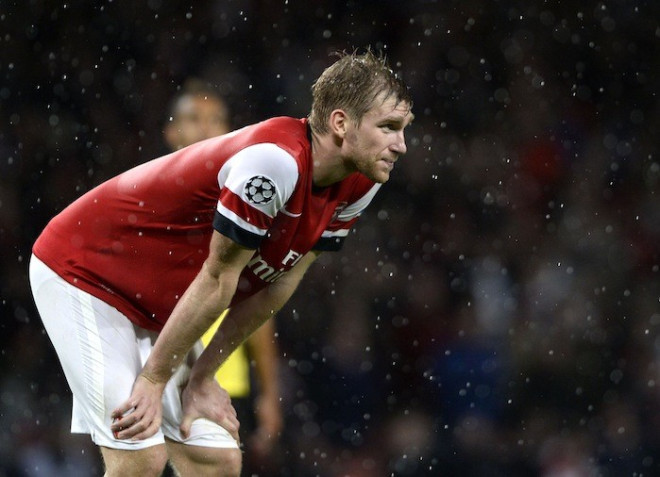 Arsenal duo Per Mertesacker and Thomas Rosicky have committed their future to the Gunners by signing new contracts, throwing into doubt Bacary Sagna career at the club.
Czech international Rosicky was told by manager Arsene Wenger last month that he would receive a new contract as he approached the final months of his current deal while Mertesacker's the Frenchman's long term plans.
But the confirmation of the duo's continued stay in north London passes with no mention of Sagna, who would appear to be edging closer to the Emirates exit with no resolution to his contract stand-off in sight.
Arsenal's title challenge has faded in recent weeks and the Gunners now lie four points off leaders Chelsea, but Wenger is hopeful Tuesday's announcement will have a galvanising effect on his side who are looking to end a 10-year hunt for silverware.
"We are delighted that Mertesacker and Rosicky have committed their futures to the Club," Wenger said through the club's official website.
"They are players of exceptional quality and experience, and have consistently proven themselves at the highest level. There is a great feeling of togetherness and belief in the group and this news will only help to strengthen this further."
Mertesacker, 29, joined the club from Werder Bremen in 2011 and went on to displace club captain Thomas Vermaelen at the heart of defence last season. The German international has been an immovable presence since having forged arguably the league's toughest defensive partnership alongside Laurent Koscielny.
"It was easy for me to commit myself to the Club," Mertesacker said. "I have been here for two and a half great years and feel I have great support from everyone at the Club and the fans. I'm really looking forward to having more years coming up with this fantastic club. We have a great team here and we all want to do our best to win trophies."
While recent seasons have seen Rosicky confined to the treatment table, the 33-year-old has proved to be a valuable option in midfield particularly during the absence of Aaron Ramsey and has earned himself a new deal until 2016, according to his agent.
"Ever since I arrived at Arsenal, I have always felt that I'm at the right place where I want to be," Rosicky said.
"I still feel this way now and I'm proud that after such a long time I'm still here and will continue. One big factor is that I want to win the league with Arsenal.
"It's my big goal and I will do everything that I can to achieve it. Arsenal is a great club, we have a great spirit here and we are all working together to do the best we can."
But the future of France international Sagna looks to be in further doubt after Tuesday's announcement. The right back has been in negotiations with the north London club over a new deal for much of the season but his reported demands of a three year contract have so far fallen on deaf ears.