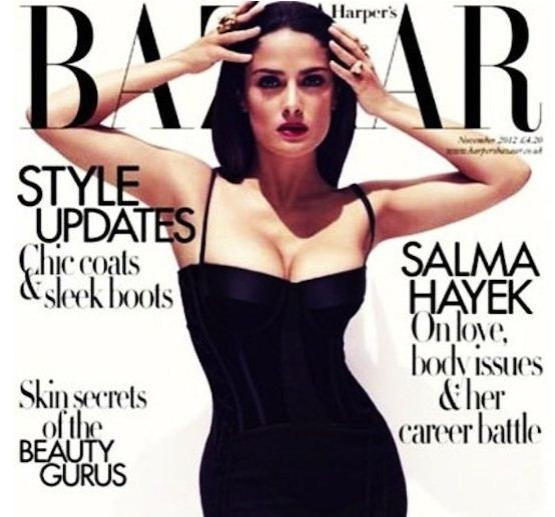 Mexican actress Salma Hayek posed for the cover of the November issue of Harper's Bazaar UK and despite her self-effacing claims to the contrary, continues to rule Hollywood as one of the sexiest women around.
The 46 year old actress was shot, for the cover, wearing a slinky black gown that was perfect to show off all her many curves and, in the accompanying interview, spoke on a number of topics, including her perceptions of beauty and her take on the glamour industry's obsession with physique.
"The worst thing you can be in Hollywood is a woman and over 40. On top of that, I have an accent, am dyslexic, short and chubby. You name it I have it, but I am here. I must be the luckiest girl in the world to be working," the Academy Award-nominated actress (for Frida (2002)) was quoted as saying by the Daily Mail.
Hayek, who made her mark in Hollywood alongside Antonio Banderas in Desperado (1995), married French billionaire Francois-Henri in 2009 and has one daughter, Valentina. The actress also spoke on diets... it turns out she enjoys food far too much to consider the former.
"I am on the limit of chubbiness because I love my food and my wine. It's not the best for fashion, but it's good for my mood," she explained, "I am happy because I eat. I am 46; I will not have Botox. You know why [I don't need to do it? Because I eat! I eat the fat, I eat the vegetables, I eat everything. If you exercise too much and you don't eat enough, it takes its toll on the skin."
"Everything starts ageing. If you don't eat carbs, you slow your metabolism down. And you know what? You look miserable. The truth is I just don't have the drive to be the prettiest and the thinnest. I can be happy for other people for their beauty. Learn to be happy for others and you can never run out of happiness," she added.
While on the subject of body shape, Hayek also mentioned she had a role model - actress/singer Madonna, and also said she was against the idea that thin was the only beautiful.
"Do I envy Madonna's body? Yes. Do I thank God that she has it? Yes! If you're fifty something and you look like Madonna, and you put a lifetime's work in the way you look, then flash it to the world!" Hayek said, adding, "In recent years, we have had to fight against our genetic nature to look like little boys, to be socially accepted as beautiful. It used to be that a young girl couldn't wait to grow up and take the shape of a woman. Now our goal is regression, to look younger and like a child."
The full interview is in the November issue of Harper's Bazaar.