England all-rounder Samit Patel is backing captain Alastair Cook and the returning Kevin Pietersen to rebuild after India took three quick wickets to leave the tourists 41 for 3 at the close in Ahemdabad.
Ravichandran Ashwin took the wickets of debutant Nick Compton (9) and Jonathan Trott (0) while night-watchman James Anderson (2) succumbed to Pragyan Ojha to leave England trailing by 480 runs with only seven first innings wickets in hand after India declared on 521 or 8.
But with Cook and Pietersen at the crease and unbeaten overnight, Patel is full of believe England can rebuild on day three.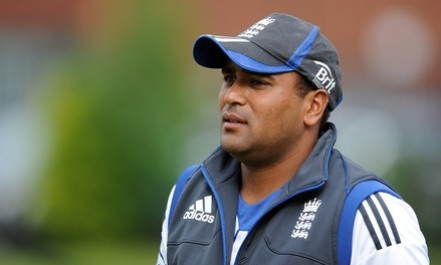 "We've got two world-class batsmen at the crease, Belly [Ian Bell] still to come, myself and Matty P [Matt Prior] - a lot of batting," said Patel, who snared Yuvraj Singh for 74 today," Patel said.
"There's no question about how long we can bat. We've got the same potential of batting as India have - and we've got to keep believing that."
"You have to earn the right to get in first, and I think Cookie [Alastair Cook] and Kev [Kevin Pietersen] in the morning have got to set their stall out and bat well.
"We've put in the hard yards; we know what we can do, we're good players of spin. Tomorrow, we hope we can show what we're made out of."
The visitors again spent much of the day in the field as Cheteshwar Pujara made 206, before a testing 90 minutes at the end of the day swung the game firmly in India's favour.
Patel is under no illusions as to the difficult task England face getting back itno the game, but claims he'd have it no other way.
"We're going to have to play some good cricket," he said. "It's hard work - but that's Test cricket. We have to front up - we can't go anywhere. We've got to stand up and be counted. It's no place for hiding."
"Sometimes you have to give credit to the (opposition) batsmen," Patel added. "Sehwag played outstandingly well yesterday; Pujara carried on today, and Yuvraj played as he does. They're good players of spin.
"As the Indians showed, if you bat a long time, you can wear teams down. That's what they did. It's something we expected. You lose the toss, and field for two days , we knew what was coming, what was going to happen - and we're prepared. That's cricket, but we've got some quality batsmen still in the shed to come in, guys that can go out and score big hundreds."