Although not a revolutionary product, Samsung hopes the Galaxy Gear will rekindle a dormant smartwatch sector, bringing about the next wave of consumer technology as the smartphone market begins to reach saturation.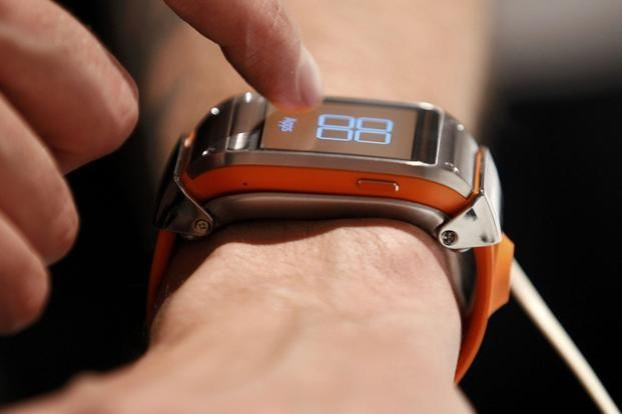 Hopes were high as the rumour mills fired into life, but now the first reviews of the Galaxy Gear are in, Samsung's supposed game-changing product struggles to live up to the hype.
The Gear has a square, 1.6in touchscreen with a resolution of 320 x 320, a 1.9-megapixel camera in the strap, microphone and loudspeaker for making phone calls, and the ability to notify the wearer of messages sent to their Bluetooth-connected smartphone.
Vlad Savov (The Verge)
Giving the watch a score of 4/10, Savov says he is "not sure exactly what it's supposed to be." Citing the device's over-reliance on being connected by Bluetooth to the Samsung Galaxy Note 3 smartphone, Savov said the watch never felt like the helpful companion device its makers claim it to be.
"The notifications are Orwellian, the media controls are exiguous, and the app selection has no substance to underpin the hype. Samsung's attempts to turn the Gear into a style icon is also unlikely to succeed, owing to the company's indecision about its target demographic."
Although praising the watch's camera and ability to make phonecalls, Savov suggests the Gear will be "looked back upon as a rough first draft...as it stands today, though - unintuitive, oversized, overpriced, and in constant need of a Galaxy guardian - the Galaxy Gear might have been better off staying on the drawing board."
Christina Bonnington (Wired)
With talk of Apple, Microsoft and others all developing their own smartwatches, it was a brave move by Samsung to enter the market first, but Bonnington says the Gear struggles to let go of negativities shared by many such first-generation devices.
"Gear...doesn't quite hit the mark. It's an admirable push in mobile technology for sure, but the execution - both on the hardware and software side - isn't enough to justify the $300 [£185] price tag. And in many ways, the smartwatch ends up being more of a nuisance than a convenience."
Addressing the Gear's user interface, Bonnington says it is "straightforward enough," adding: "Power on or raise your wrist towards your face to bring up the homescreen. Swipe right or left to access your favourite 'apps', along with an apps menu for more offerings. Swipe downwards from the top of the device to go back, and a downward swipe from the homescreen opens the camera."
Double-tapping the home button is customisable, but by default opens up S Voice, which is how the wearer speaks to Gear. You can dictate replies to text messages, tell it to dial certain contacts, add events to the calendar, set an alarm, get the weather forecast and more.
"But it's all just too darn slow," Bonnington said, "by the time I've dictated, confirmed and sent a message, I could have tapped it out on my phone faster."
Regarding battery life, Bonnington said: "With what I'd call medium to heavy usage, I got between four and six hours out of Gear's 315mAh battery. For lighter, more typical, daily use, Gear lasted 12 hours."
Zap Epstein (Boy Genius Report)
The Galaxy Gear displays notifications such as incoming calls, and alerts to unread emails and text messages. Epstein found this aspect of the Gear to be "a pretty solid experience. They hit the watch face instantly as soon as new messages or calls arrive on the phone, and the font on the watch is very legible so reading is no problem."
But Epstein's admiration towards the Gear didn't last. "Controlling the Galaxy Gear with Samsung's S-Voice is an awful, awful experience.
"Using S Voice when anyone else is nearby is beyond embarrassing...and talking to a watch is still uncomfortable even when you're alone. Also the voice Samsung used for S Voice is very digital and unnatural. Worse still, S Voice is slow to process speech, slow to issue commands, and painfully loud. It's just terrible."
Epstein concludes: "Samsung is pitching the Gear as a smartphone companion device that is designed to make your life easier. It does not. In some cases the Gear adds conveniences to the mobile experience but they are minor at best and they come at too great a price.
"Samsung's first shot at the smartwatch category everyone is calling the future is hopelessly stuck in the past. It's a tiny 1.63-inch window into a handful of basic smartphone functions. It brings nothing new to the table. It does not innovate or even try to. The Galaxy Gear is a 'we were here first' device that feels like a half-baked response to an Apple product that doesn't even exist."
Brad Molen (Engadget)
Molen praised the Gear's camera because, although only 1.9 megapixels, being located on the outside of the wearer's wrist and ready to use after a single swipe, he could see many future uses for it.
"The camera's there to serve two primary purposes: first, to capture those quick moments that will be over by the time you reach for your phone: and second, as a clever use case for third-party apps. Think about scanning QR codes, using the camera to translate road signs in a foreign country or even taking a picture of a wine bottle to see if it fits your finicky tastes. It's all about the convenience and time-saving aspect of having a smartwatch."
Looking to a future of improved versions of Gear, Molen concludes: "The Gear isn't bad for a first-generation Samsung product, and it'll get better as the ecosystem grows. Of course, that's if the watch catches on and developers decide it's worth their time to produce a special app for it. Of any Android manufacturer, Samsung stands the best chance of gaining support.
"If it doesn't succeed, however, the $300 retail price will be even harder to swallow than it currently is, and no assortment of hot colours will change the fact that it's little more than a glorified time-telling device."