Key Features
5.55in AMOLED display, 720x1280, 267 pixels per inch
Android 4.1 Jelly Bean
1.6GHz, quad-core processor
2GB RAM
S-Pen stylus
Price as reviewed (16GB): £529.99 / Free from £47 per month on Vodafone
Samsung Galaxy Note 2: Introduction
We have the technology to put a man on the moon, tweet from Mars and record an entire series of television at the push of a button, but replacing paper and ink with bits and bytes has eluded us.
That doesn't mean that we haven't tried - far for it infact; we had the Palm Pilot in the 90s and those chunky Sony Ericssons with the flipdown keyboards ten years ago but nothing to date has felt like pen and paper.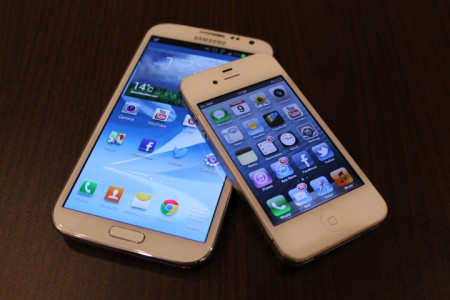 Samsung thinks it's cracked it though, with the Note 2. As the name suggests, this is the second generation of Samsung's Galaxy Note smartphone and falls somewhere between the smaller (but still huge) Galaxy S3 phone and the 10.1in Note tablet.
The Note 2 is the first Samsung device to get Android 4.1 Jelly Bean out of the box, but it's that enormous 5.55in screen and S-Pen stylus that make this phone stand out from the crowd.
Samsung Galaxy Note 2: Design and Feel
Earlier this year we said how the 4.8in Galaxy S3 phone is too large to be used comfortably in one hand, and more recently we concluded that the 4in iPhone 5 was a better size.
We stand by that, but now the Note 2 has come along and opened our eyes to a third way; if we stop thinking of the Note as a huge smartphone, and more as a pocketable tablet that can make calls and send texts, we end up with a device that starts to make sense.
Forget about using it with one hand (even if the TouchWiz interface can be adjusted to help) and use both hands - better still, crack out the S-Pen stylus and use the Galaxy Note 2 as intended; this is a device that replaced both a conventional tablet and your smartphone.
Below that headline-grabbing screen is a central Home button, flanked by two capacitive touch-sensitive buttons for Back and to call up more options. A long press of the Home button opens up a list of apps currently multitasking, a double-press launches S-Voice (Samsung's answer to Siri on iOS) and finally a long press of the options button opens up Google Now.
Above the screen is the earpiece, proximity and ambient light sensors, a notification light, and a front-facing 1.9-megapixel camera.
There's a screen lock / power button on the right edge, volume rocker on the left (both of which are low enough to reach with one hand), a 3.5mm earphone jack up top and a micro USB port on the bottom for syncing and charging.
Next to that USB port is a slot housing the S-Pen stylus, while around the back Samsung has installed the same 8-megapixel camera with LED flash and 1080p video recording as is featuring on the Galaxy S3 smartphone.
Regular readers may be fed up of us complaining about the glossy plastic Samsung uses on all of its current products - and we're just as fed up of writing about it - but sadly the Note 2 is no exception.
We don't mind the glossy white - although we are fans of the matte white finish of the HTC One X - but the fake chrome edge is, as with the Galaxy S3, cheap.
If the chrome bezel was cold-to-the-touch and added a little weight to the device, then fine; but what Samsung has give the Note 2 is a piece of plastic that is reflective beyond belief, attracts fingerprints and - at least on our S3 - scratches and chips to reveal black plastic underneath.
It's a poor design choice and one which we hope Samsung will move away from sooner rather than later.
The rear cover of our Note 2 review unit moved and creaked a little when pushed near the volume rocker; not a deal-breaker, but not something we want from a £500+ device.
Elsewhere, it's obvious - and not necessarily a bad thing - that Samsung has borrowed much of the S3's design for the Note 2, both for its hardware and software.
Weighing 183g the Note 2 is around 50g heavier than the Galaxy S3 and a full 71g lighter than the slimmed down iPhone 5 - both of these phones are praised for their lightness, and considering its vast size, we're surprised the Note 2 doesn't weigh more.
Samsung Galaxy Note 2: Hardware and Connectivity
Being a £500 smartphone the Galaxy Note 2 has Wi-Fi 802.11 a/b/g/n with the ability to become a Wi-Fi hotspot, Bluetooth 4.0 with A2DP for streaming music to wireless speakers, NFC for swapping contacts with a tap, 4G LTE (where available) and a microSD card slot.
There's 16, 32 or 64GB of storage as standard depending on how much you want to spend, and that SD slot under the rear cover (along with a microSIM slot) can increase storage by up to 64GB if you have a card that big.
As with the Galaxy S3, the Note 2 has a wide range of party tricks aimed to help make using it easier and more intuitive. Using the accelerometer, some menus can be navigated by tilting the device, and this works for zooming too, but we found it to be nothing more than a gimmick.
Along with that accelerometer, Samsung has crammed in (although we guess there's plenty of room) a compass, gyroscope, proximity sensor, ambient light sensor and, bizarrely, a barometer.
For syncing and charging the Note 2 uses a microUSB port located on the bottom edge of the device, and finally for audio there's a headphone jack at the top.
Samsung Galaxy Note 2: Operating System and Performance
The Galaxy Note 2 is, without doubt, one of the fastest and most powerful smartphones on the market today. Powered by a 1.6GHz quad core processor and 2GB of RAM the Note 2 is a very capable device and shrugged off just about anything we had to throw at it.
Intense 3D gaming, HD YouTube videos, live TV streaming, social networking, acting as a hotspot...the lot.
As is the case with the Galaxy S3, HTC One X, iPhone 5 and others, the Note 2 responds to your commands just about instantly, and no matter what we did it was impossible to encourage any form of lag or slowdown of the Android operating system.
One annoyance was with the Home button. Because a double-press launches S-Voice (Samsung's answer to Siri) there is a small pause between a single press and the device reacting, while it waits to see if you press twice.
We're talking no more than a second here but it's just enough to be noticeable - especially when the rest of the system is so quick and responsive.
There is a similar delay when pressing either the Home or power button to wake the phone from sleep, but it's not the end of the world.
Being one of the first devices to come with Google's brand new Android 4.1 Jelly Bean out of the box is a plus, but Samsung's TouchWiz UI skin changes so much, casual users will be hard-pressed to tell the difference between the Note 2's software and the Galaxy S3 - and the Note 10.1 tablet for that matter.
For us this isn't a problem, because we like TouchWiz and giving all of its devices the same user interface helps to unify the product line, and this ultimately keeps customers safe in the knowledge that no Samsung device is drastically different from the other.
Another small fault we came across was that the phone would sometimes fail to lock. A press of the lock button would turn the screen off, only for it to come back to life (unlocked) a couple of seconds later.
We wouldn't go as far as to call this a security flaw, because the phone comes back to life almost instantly and you would surely notice, but it's certainly a quirk Samsung needs to iron out.
The Note has a huge 3,100 mAh battery that saw our review unit last two full days of average use with the screen at around 50 percent brightness. Two hours of streaming video from the BBC iPlayer saw the battery drop less than 20 percent - it has the best battery life of any phone we've tested this year.
For nore on TouchWiz check our of review of the Galaxy S3 here.
Samsung Galaxy Note 2: S-Pen
The S-Pen is of course what makes the Galaxy Note unique and Samsung has been busy improving the plastic stylus since it's first outing in the original Note last year.
Now longer, thicker and more comfortable to hold, the S-Pen feels more natural than ever and thanks to the 1,024 levels of pressure sensitivity, using it to write and draw efficiently is easy.
Sliding the stylus out causing the Note to vibrate and (if it's unlocked) display a new Home screen with links to quickly create a note.
While the S-Pen can be used to navigate just about all of the TouchWiz user interface - only the capacitive buttons below the screen cannot be prodded with the stylus - there are very few apps that make full use of it.
S-Note is a very basic note-taking app, allowing you to adjust the thickness of virtual ink, the colour and the type of pen or pencil the stylus is acting as.
Writing on the Note's screen is much natural than you would first imagine, and the screen can tell the difference between the nib of the S-Pen and the side of your hand, so leaning on the phone to write won't cause unwanted scribbling - basically, the screen will only respond to the style when it is less than a couple of centimeters away.
That stylus is a lot smarter than it's humble plastic construction would have you believe; the Note 'knows' when the stylus is within around two centimeters of the screen, and a dot appears to help you work out where exactly the pen will touch the screen.
This hovering technology also helps you preview content without actually tapping it. For example, hovering over the subject line of an email in your inbox will cause a preview box to open, showing more of the email, without you having to open it.
Another use is when watching a video. Hover over the timeline and a preview box will open showing a frame from wherever you're pointing the stylus - it's a useful way of scanning for a certain part of a video while not disturbing what is being played.
Once we selected a fine virtual point for the stylus we found writing on the Note 2 to be much like writing with a pen and paper - of course the screen provides less feedback than paper but as a replacement to our trusty notebook, it's closer than ever.
As for handwriting recognition, the S-Pen and Note 2 do a good job and even our mainly illegible scrawls were understood and converted to text more often than not, although the time it takes to write and have it converted to text - which just a fes seconds - is long enough for us to type instead of write text messages and emails.
That said note-taking is a joy and the ability to quickly take a screenshot by clicking a button on the side of the S-Pen is a bonus - screenshots can then be drawn on and emailed or shared via social networks.
Samsung Galaxy Note 2: Display
The display measures 5.55 inches, has a resolution of 720 x 1280 and a pixel density of 267 per inch; along with the stylus, it's the Note 2's enormous screen that sets it apart from everything else on the market.
It's a Super AMOLED display and, as with the Galaxy S3, has a slightly cool, blue tinge. This isn't a deal-breaker for us, but it's worth remembering that the current crop of high-end Samsung devices make everything look a little cooler than it should.
Despite the slightly-off temperature balance, the screen of the Note 2 is excellent. It's clear, bright and very responsive to touch inputs, with a wide viewing angle and contrast is equally good.
HD content looks fantastic, naturally, and being AMOLED means that blacks are impressively dark.
While the screen quality cannot be disputed, the sheer size of it is definitely a love-or-hate affair. The extra size makes watching video, browsing the web and viewing photos better than any other smartphone, but typing and ideally navigating around the user interface - especially with one hand - is difficult.
Samsung Galaxy Note 2: Camera
Samsung has fitted the Note 2 with an 8-megapixel camera with autofocus, tap-to-focus, burst shooting, HD video recording and a whole range of other features and settings.
It's the same camera as found in the Galaxy S3 and that's good news to us - the S3's camera is one of the best we've tested this year.
You can shoot photos in HDR (high dynamic range) to capture scenes with high and low lighting in the same frame, burst mode - which shoots eight photos in around three seconds, then picks the best - and the usual range of monochrome and sepia effects.
White balance, metering and ISO can all be adjusted manually, or left to work things out automatically, and there's 13 different scenes to choose from, ranging from sports and portraits, to shooting by candlelight or capturing fireworks.
Although there's a minimum of 16GB of storage on tap depending on which S3 you buy, the resolution of photos taken can be lowered from 8-megapixels to six, 3.2, 2.4, 0.9 or just 0.3-megapixel if you so wish.
As for video, the Note 2 shoots in full 1080p HD, although that can be trimmed down to 720p or lower if you need to save space, while the white balance and exposure can be adjusted and photos can be taken while you shoot video.
The flash can be turned on to help illuminate the scene while recording and the phone usefully shows in megabytes how large the current recording is as you shoot, next to how much storage you have left on the phone.
The lack of a physical shutter button means that getting the perfect photo by tapping the on-screen icon can be difficult, compounded by the camera being located in the middle of the phone, rather than in an upper corner, and the touch buttons below the screen often get in the way - hitting Back and being ejected to the home screen while recording happened more times than we care to remember.
Verdict
This is where it gets difficult. The Note 2 is huge, there's no escaping that. But while the S3 is big for a phone, the Note does more - enough to class it as something entirely different? Possibly.
Samsung has created a device that is as love-or-hate as it gets; for some it's a phone that is far too large to be useful, yet not big enough to be a tablet; for others, it's a product that fits perfectly between a phone that isn't small enough to work on effectively, and a tablet that is too big to carry with you everywhere.
If you fall into the latter, then the Note 2 is perfect. It's fast, sleek, well built (plastic design aside), with the newest version of Android, a good camera and a stylus that is far from a gimmick.
But, if the Note isn't for you, then Samsung offers the smaller Galaxy S3 and - coming on 11 October - a 4in Galaxy 'Mini'.
Sure it barely fits in your pocket and making calls in public feels like you're part of a comedy sketch, but forgive it for standing out and the Note 2 is wonderful; (just) small enough to fit in your pocket, but large enough to read, game and browse on.
It's a compromise between having a small phone and a large tablet. It may not be perfect all of the time (one-handed operation is all but impossible), but for most of the time it is ideal.
That isn't the outcome we were expecting. We thought it was ridiculous and we'd hate it, but give it a couple of days and you stop reaching for the iPad when you need a bigger screen because it's already there in your pocket.
As for getting used to such a large phone...our iPhone 4S felt like a toy and far too small after just a few days with the Note 2. It's amazing how quickly you get used to it, and nothing smaller will do.
Scores
Screen: 8/10
Design: 7/10
Camera: 9/10
Operating System: 9/10
Build Quality: 8/10
Overall: 9/10
The Good:
Huge screen
Stylus is useful, not a gimmick
Good camera
Incredible performance
Great battery life
The Bad:
Huge screen
Plastic finish feels cheap
A couple of software issues to be addressed
Not enough apps to use S-Pen with
S-Voice still needs work
Camera photos: