Samsung's Galaxy Note 8.0 is about creating as much as consuming and this unique feature could give it the edge in the crowded tablet market.
Key Specs:
8in screen, 1280 x 800

Quad-core, 1.9GHz processor

2GB RAM

16GB/32GB storage (expandable via microSD)

3g/4G versions

Price: TBC
Samsung were the first company to launch a mid-size tablet back in 2010, with the original Galaxy Tab. While it sold well, this was more the result of the fact that the only other tablet on the market was the more expensive iPad, than because the Tab was a necessarily good tablet.
Since then Samsung has had a presence in the mid-size market, but 2012 saw it lose ground to the budget tablets from Google and Amazon, as well as Apple which launched the iPad mini.
So the launch of the Galaxy Note 8.0 is Samsung's latest attempt to crack this lucrative market.
As Samsung has not announced a price for the Galaxy Note 8.0, it's tough to compare it against the budget competition, but it is fairly safe to say this 8in tablet will be more expensive that the Nexus 7 or Kindle Fire, so it needs to offer something more in terms of features and design.
Let's look at design first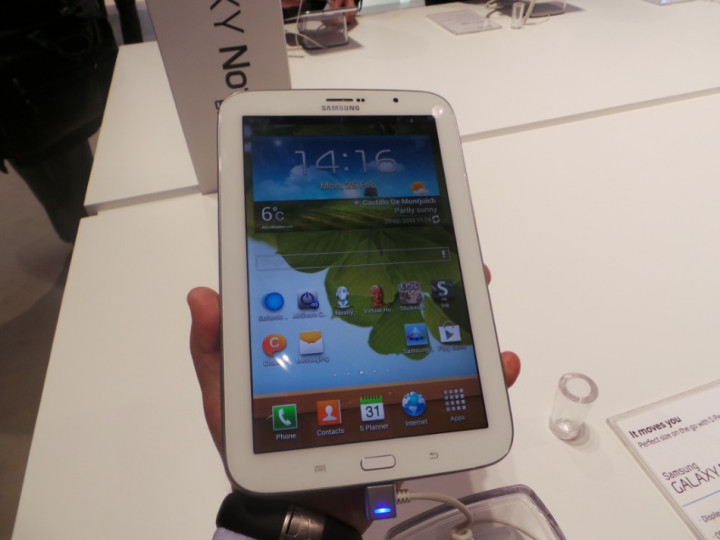 Samsung's premium line-up of devices have a very recognisable design language of late. The Galaxy Note 2 is a bigger version of the Galaxy S3, and the Galaxy Note 8.0 is simply a bigger version of the Note 2 (or a smaller version of the Note 10.1).
While the design is not to everyone's taste, it is simple, clean and although it's not particularly premium feeling, at the same time it is not cheap.
The Galaxy Note 8.0 is just about small enough to be held in one hand, though it's not comfortable. Samsung is planning on launching 3G and 4G versions of the Note 8.0, potentially allowing you to replace your smartphone with one of these tablets.
We saw a few people holding the Note up to their ear, and suffice it to say that Dom Joly and Trigger Happy TV was what came to mind immediately.
The 8in screen is a typical Samsung panel. Colours are bright and punchy, but overly so in some cases. The resolution of 1280 x 800 gives the tablet a relatively low pixel density of 189ppi, and it shows when reading ebooks or browsing the web.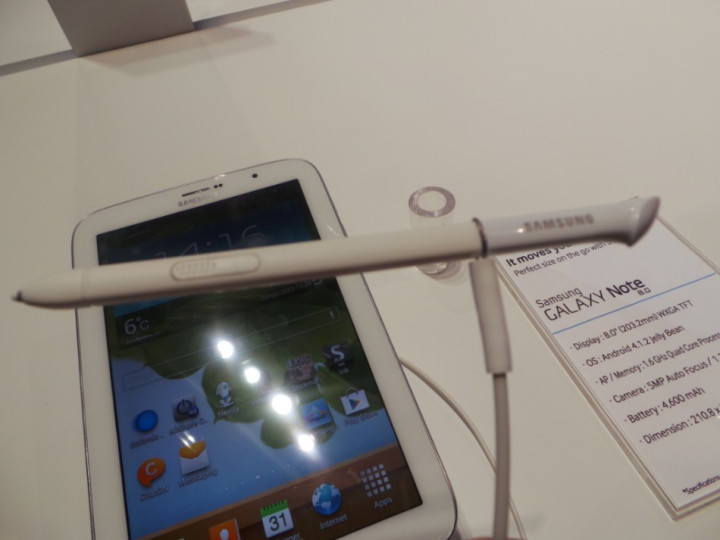 If you have seen one of Samsung's other products, you'll know what you are getting. It's nothing revolutionary, but it's working for Samsung so they obviously don't see the need to change it.
Features
With pricing and design not likely to win Samsung a lot of customers, it's left to features to convince undecided tablet buyers.
And features is where Samsung excels. The accompanying S Pen is in its second generation now and has steadily become a superb asset to the Note series. Samsung has also created some decent apps to take advantage of its increased pressure sensitivity and it's something no one else is doing at this level.
As well as navigating the on-screen UI, the S Pen can now be used to control the Back and Menu buttons below the screen.
Samsung announced that an S Pen optimised version of Flipboard will be released for the Note 8.0 (and presumably the Note 2 and Note 10.1) but at Mobile World Congress there was no sign of it.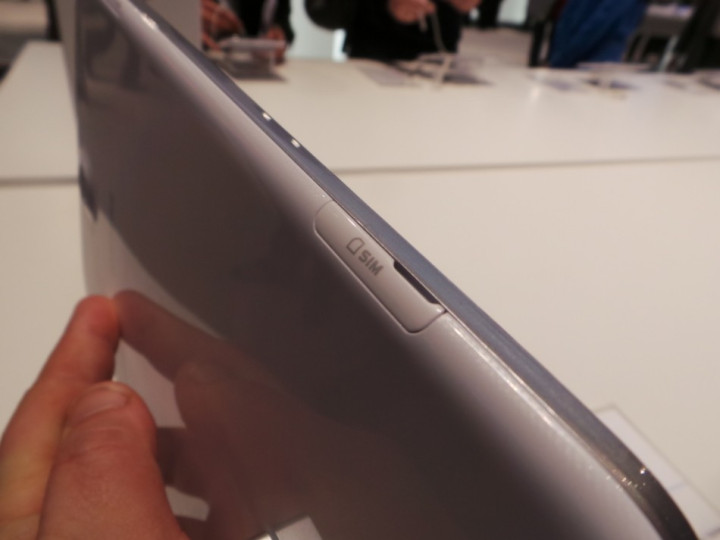 There was however S Note and a variety of drawing apps pre-installed, all of which make the Note 8.0 a content creation device as much as a content consumption device, and this is something other mid-size tablet manufacturers cannot claim.
The Galaxy Note 8.0 will have a tough time convincing customers that its unique features are worth the (presumed) additional cost, but if you are looking for a tablet to create, then the Note 8.0 could be just the device you've been looking for.