The Samsung Galaxy S3 launches in the UK and 27 other countries worldwide 30 May, with the 16GB model available everywhere and a 32GB version, which is being sold exclusively by Vodafone for the first four weeks.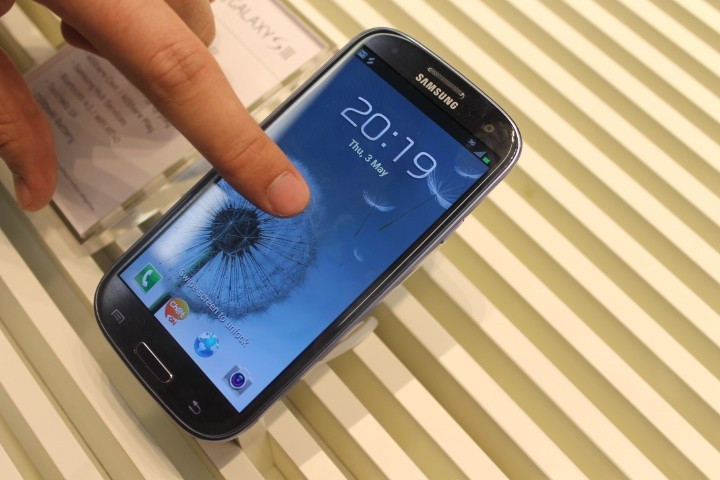 Although not yet available in the US, Samsung hopes to launch the Galaxy S3 there and in 143 other countries across 295 different mobile carriers by the end of July.
Customers hoping to get their hands on the Pebble Blue S3 may well be disappointed, however, as Samsung has had problems developing the colour in time for launch, with the phone facing weeks of delays.
The Korean company said: "Samsung's Galaxy S3 Pebble Blue version comes with a newly invented blue colour and special hyperglaze material.
"In order to meet the highest internal quality standards and to provide the best quality Galaxy S3 to customers, a short supply of [the] Pebble Blue version is expected in some regions in the next two to three weeks."
Customers who have ordered the white Galaxy S3 need not worry, as Vodafone announced earlier this week that it expects all orders to be delivered on the 30 May UK launch date.
Everything Everywhere, O2 and Three all conceded that their customers would be affected by the delayed Pebble Blue model.
Apple experienced similar issues with the white iPhone 4, which was announced alongside its black counterpart, but did not ship for many months later, due to problems in getting the colour just right.
The Galaxy S3 has a 4.8in touchscreen and features what Samsung is calling a "natural language user interface", which enables the smartphone to track users' eye movements so that the screen does not turn off when they are looking at it.
Powered by a quad-core 1.5GHz processor and running Android 4.0.4 Ice Cream Sandwich, the Samsung Galaxy S3 is set to be one of the most powerful smartphones of the year.
We got hands-on with the S3 at its London launch party earlier in the month.
Must Read: