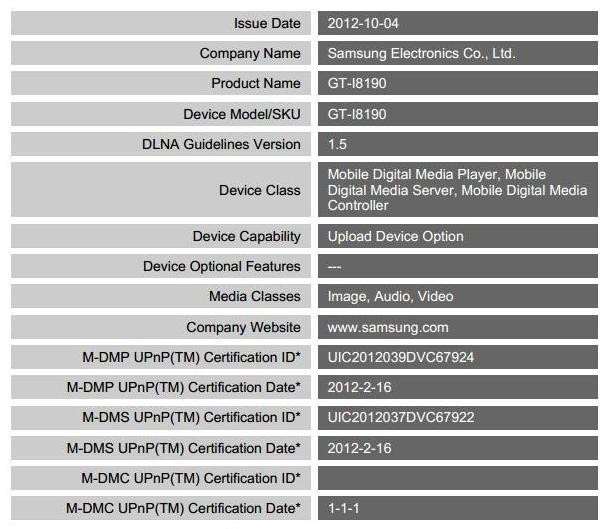 The Samsung Galaxy S3 Mini has been making headlines. The device is expected to make its debut alongside a Galaxy Music phone at a launch event scheduled for 11 October. Information about the device has been doing the rounds on the internet. A DLNA certification for the Galaxy S3 Mini GT-18190 has been spotted along with another device with a model number GT-18190L, according to Blog of Mobile.
The Galaxy S3 Mini is said to come with a 4in WVGA display with a resolution of 800 x 480 pixels. According to a report, the device could be for the middle segment. The rest of the specs include 1GHz dual-core processor and a five megapixel rear-facing camera. With the release of Android 4.1 (Jelly Bean), both devices are speculated to run Jelly Bean.
Apart from the OS, the specs of the Galaxy S3 Mini match with the specs of the Galaxy S i9000 model that was released in June 2010.
Just a couple of days back, a User Agent Profile (UAProf) surfaced that revealed the specs of the Galaxy S3 Mini. According to UAProf, the device is expected to sport an ARM11 processor. The device could come in two colour options - ceramic white and marble blue.
There has been intense speculation on the Galaxy S3 Mini's specs, but there is no word on its pricing. Analysts speculate the Galaxy S3 Mini could counter Apple's new smartphone, the iPhone 5.
In August, Jack Gold, an analyst with J Gold Associates, claimed that the Galaxy S3 Mini is a distinct possibility, according to Tech Radar. Gold claimed that the Korean giant plans to counter the iPhone 5.
"The implication is that Samsung had better have some tricks up its sleeves if it wants to compete with whatever market-hogging monster Apple is preparing to unleash," states Tech Radar.