The Samsung Galaxy S3 has been recently launched in the UK and the device is expected to be available in 145 countries across 296 carriers by July. The pebble blue model of the smartphone was expected to be delayed for three more weeks because of the colour as well as special hyperglaze material, according to ZDNET UK. "In order to meet the highest internal quality standards and to provide the best quality Galaxy S3 to customers, a short supply of pebble blue version is expected in some regions in the next two to three weeks," a spokeswoman for Samsung earlier said according to ZDNET.
The Korean giant had to destroy up to 600,000 Pebble blue back covers because of a manufacturing error at one of the company's production plants, according to the Daily Mail.
But, now according to Android Authority, it is reported that the pebble blue colour could be replaced by a new colour called metallic blue. A new YouTube German video that has surfaced reveals how the pebble blue model of Galaxy S3 looks. The model appears as pebble blue when the light falls on the device; otherwise it seems to have a metallic grey finish. Check out the video below:
"Although there's no confirmation from Samsung or its carrier partners on the colour change at this time, word on the street is that the Pebble Blue version could be sold/rebranded as Metallic Blue," elaborates Android Authority.
Apart from the video even the online store shows up "metallic blue" name in the listing. Webhallen, a Swedish online store has already changed the name of the model. The model is listed as "Samsung GT-i9300 Galaxy S III (3) - Metallic Blue", even though the image shows up the pebble blue model of the Galaxy S3.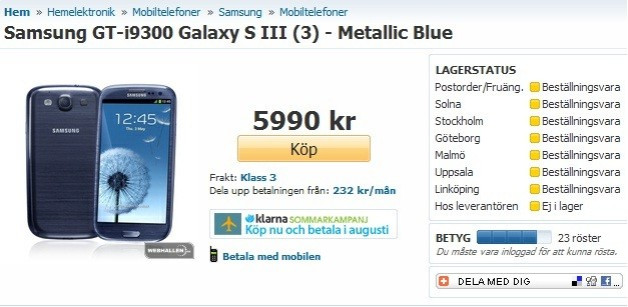 There is no official announcement from Samsung on the Galaxy S3 colour change.