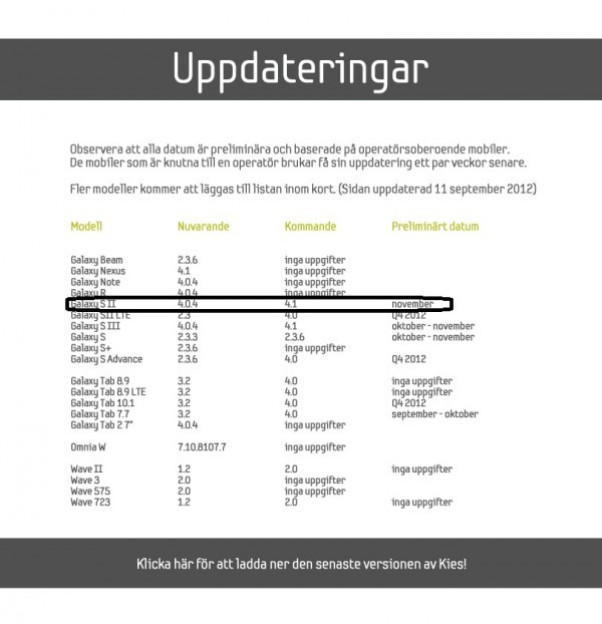 Samsung Galaxy S3 and S2 owners are in for a welcome surprise, as the official Android 4.1 Jelly Bean upgrade is coming their way as early as November this year. Samsung Sweden recently released an updated list of Android devices, which indicates that the Galaxy S2 will get the Android 4.1 update in November and the S3 during October-November.
Another leaked report based on Samsung's Bulgarian Facebook page suggests that the two Gingerbread devices, Galaxy Ace 2 and S Advance, would get a double-jump to Jelly Bean treat after skipping Ice Cream Sandwich (ICS) update.
The Galaxy S2 seemed to have been long forgotten from the update party, as Samsung failed to deliver any pre-release versions to users. All that is going to change if Samsung Sweden's software upgrading schedule indeed turns out true. Samsung Denmark has also posted a similar release schedule list for all upcoming devices on its official Facebook page.
Though this information comes from an official source, Samsung Sweden Facebook page, it should be taken with a pinch of salt. In case the information turns out true, it is unclear if Samsung will apply the release date schedule outside Sweden or restrict access just to Sweden.
The other devices featuring on the Swedish list include Galaxy Note, Galaxy Tab 8.9 and Galaxy Tab 2 7.0, which have no date in the release column (see image at the top). That's quite bizarre, as the Note and Tab 2 7.0 have been confirmed to get the Jelly Bean update in Q4 this year.
Those wary of waiting for long periods over speculated news may try installing the unofficial Jelly Bean ROMs for the Galaxy S2 from here and Galaxy S3 posted here. The rest will need to wait for at least a couple of months to join the Jelly Bean party.
[Source: Sammobile]