The developers of the popular Android AnTuTu Benchmark app claim they are confident about the specifications for the smartphone Samsung is reportedly scheduled to launch on 3 May in London.
"What we got is not only scores, but information on smartphones, we can surely say it is Samsung I9300," AnTuTu said to TechRadar, confirming, apparently that the device Samsung is ready to launch is the successor to the best-selling Galaxy S2 - the Galaxy S3.
According to the benchmark, the phone will feature a 4.7-inch display with a resolution of 720x1280 pixels and be powered by a dual-core 1.4GHz Exynos 4 processor with 1GB of RAM. The phone will run on Android 4.0 (Ice Cream Sandwich) software and have a 12 megapixel primary camera (the secondary camera will be of two megapixels).
Dual or Quad-Core?
Samsung confirmed last week the next-gen Galaxy smartphone would feature a 1.4GHz Exynos 4 quad-core processor, which is built on the company's High-K Metal Gate low-power technology. The chip features twice the processing capabilities of the 45nm process-based Exynos 4 dual-core while consuming 20 percent less power.
Meanwhile, a second report, in Korea Times, quoted an unidentified Samsung executive as saying the US version could feature a different chip
"Samsung plans to release its Galaxy S3 smartphone according to different specifications and different markets. For European consumers, it will use 3G and the company's own quad-core mobile APs, while its own solution that combines LTE, 3G and quad-core mobile APs will be used for the Korean version. But only in the United States, will Samsung use Qualcomm chips," the executive said.
However, the benchmark app has re-opened the whole debate, with claims about a dual-core processor.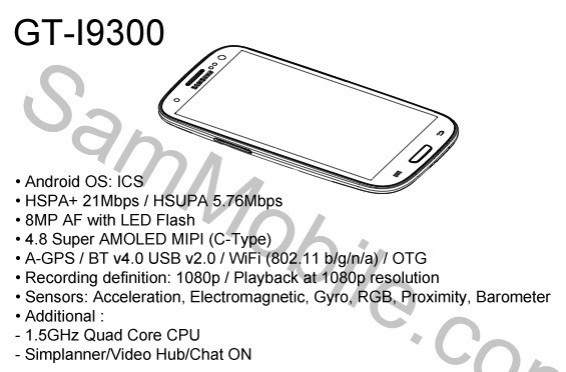 Leaked Service Manual
A service manual, believed to be of the GT - I 9300, the rumoured codename for the Galaxy S3, was reportedly obtained by Sammobile last week.
The text suggests a 4.8-inch Super AMOLED display, Android 4.0, an eight megapixel camera (with auto-focus and LED flash) that can capture video at 1080p, among other supposedly leaked specifications.
However, what features the Galaxy S3 will actually come with - and these ought to be excellent ones, if the company wishes to establish an even stronger hold on the international smartphone market - will only be absolutely confirmed once the company launches the new phone on 3 May.