Samsung and Telcel have decided to make the event special at the Tecel Plaza Carso, according to Android Central. It is reported that on 22 June, Telcel will host an "exclusive evening sale" where the customers who want to lay their hands on the Samsung's newest Galaxy S3 can grab the device on the spot.
The announcement was spotted on the twitter account of Samsung Mobile MX. The company tweeted on 14 June: "Be surprised by the new # Galaxy SIII Attend the June 22 Special sales exclusively in ACC @ Telcel Plaza Carso!" Moreover, it is uncertain if the exclusive sale would include additional charges for the Galaxy S3 or not, according to Fun47.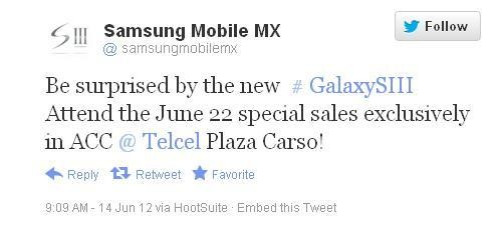 "Usually in such events the accessories related to the device concerned are also put up on sale, so don't be surprised if you see the official TPU case or the Samsung TecTiles which everyone has been talking about lately," elaborates Fun47.
The TecTiles are dependent on the Near Filed Communication (NFC) technology in order to communicate with the instructions. It is an app which lets you read and write TecTile NFC tags. Users can create TecTiles to change phone's settings, launch apps, check-in to places, or even make phone calls or send text messages automatically. After creating a TecTile using the TecTile app, place the Tile in a convenient place, and then tap your phone to the TecTile to perform the action stored in the TecTile.
However, the Korean giant has not made any official announcement about the "exclusive night sale". The new flagship smartphone comes with a 4.8in Super AMOLED capacitive touchscreen with a resolution of 1280 x 720 pixels. It comes in two different models - pebble blue and marble white, while the AT&T is expected to carry an exclusive red version of the Galaxy S3 this summer.