Ahead of the anticipated launch of the Samsung Galaxy S3 on 3 May, the South Korean manufacturer has launched a countdown website with the message: "Coming soon. You can take the next step in."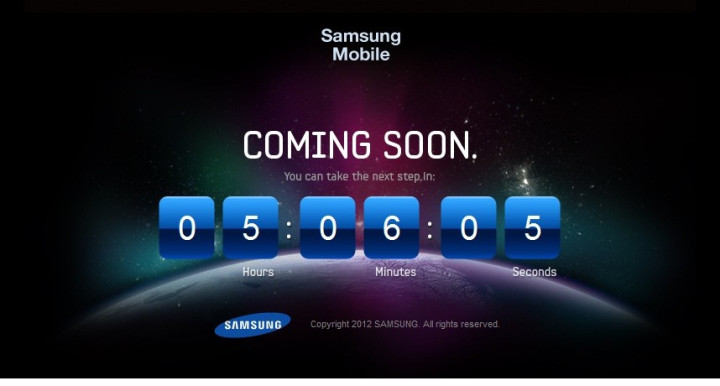 The website sprang up following a cryptic tweet on Samsung Mobile's twitter account which read: "Destination: tgeltaayehxnx." The word "tgeltaayehxnx" is an anagram for Next Galaxy.
The anagram is also a website which directs users to the countdown clock which is launched by Samsung. The countdown timers is set to expire at midday on Monday, 23 April, though what will be revealed then is still unclear. One clue has been uncovered by Slashgear, who discovered that the source code of the tgeltaayehxnx website shows an image file titled startup-retina.png.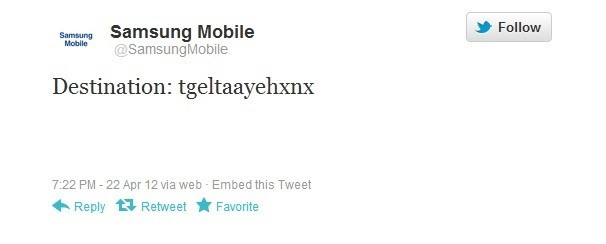 A press invite sent to IBTimes UK confirms a launch event for Samsung's next Galaxy device on 3 May in London. Meanwhile, the mysterious announcement which features a countdown clock hints that Samsung would be teasing some kind of disclosure shortly.
The Korean giant has been very secretive about the name and features of its upcoming smartphone. Moreover, a content variable in the source code claims: "Discover how Samsung is about to challenge the way you can view the Galaxy once more." Perhaps, it hints that the smartphone could come up with a Retina display feature. The popular new iPad already made a big hit with its high-resolution Retina display. Although the company remains tight-lipped, there are plenty of rumours about Galaxy S3's features that have gone viral on the internet.
Additionally, on 20 April, Samsung Denmark posted a teaser image on its official Facebook page. The image shows up an impression of a device, but the design is still a mystery. The impression of a curved smartphone looks similar to the Galaxy Nexus. It claims the timing as 20:00 (8 pm), but the press invite shows 19:00 (7 pm). The image exhibits a "+" symbol which could mean we could be seeing a Samsung Galaxy S3 plus a tablet or simply a Samsung Galaxy S2+.

Recently a video has been leaked on a Vietnamese website which shows a pre-production model of the S3. It claimed the device would come up with a 4.6in screen with a HD resolution of 720 x 1,280. In addition, it was running on Android 4.0 Ice Cream Sandwich with 1.4GHz processor, 1GB of RAM and 16GB of internal storage with a microSD card.
However an 'accidental' listing on Amazon's German over the weekend claimed the Samsung Galaxy S3 will have a 4.7in Super AMOLED screen, 16GB of storage, a microSD card slot and a 12 megapxiel camera. The phone was priced at €599 (£490) before the listing was removed.