Samuel Eto'o Denies Rift With Jose Mourinho Following Age Comments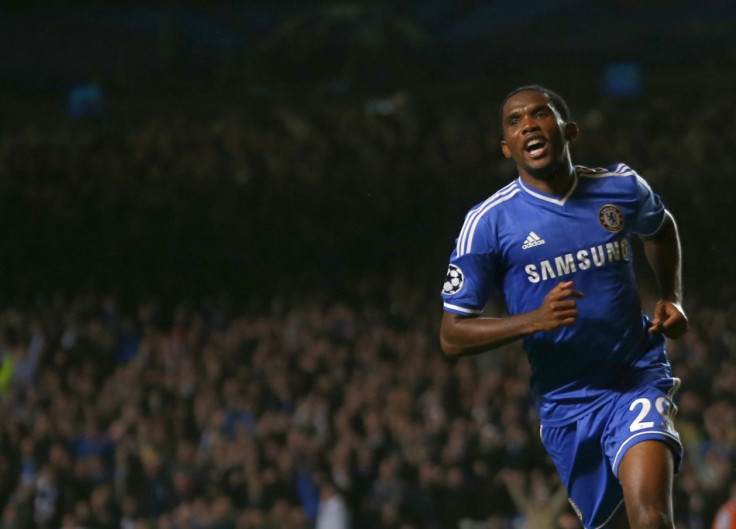 Chelsea striker Samuel Eto'o has dismissed suggestions he is upset with Jose Mourinho's recent comments regarding his age.
Blues manager Mourinho was secretly recorded bemoaning the quality of the striking options at his disposal when he was caught on camera saying: "I have a team but no striker. It is not possible for us to win the Premier League."
Speaking specifically about Eto'o, he added: "I have one, but he is 32, possibly 35, who knows?"
Despite comments from Eto'o's former national team coach Claude Leroy suggesting the striker was left "very angry" by Mourinho's words, the Chelsea striker insists there is no rift between him and his boss.
"I am Samuel Eto'o, what can I say?" the Cameroonian striker told Sky Sports News following his side's 1-1 draw with Galatasaray in the first leg of their last 16 clash.
"If at 36 and 37 I can score three goals at Manchester (Eto'o scored a hat-trick against Manchester United in January) it means that I still have some juice and I can ever score until I am 50.
"But I really don't care, what is really important to me is to give my maximum to the team, to help them win some titles. "
Demba Ba, who has scored just three goals in all competitions for Chelsea this season, was also quick to shrug off his manager's comments. "I am feeling good. The relationship is okay – there is nothing exciting to tell you. I just keep smiling; keep training well and things will come.
"That's probably the way he (Mourinho) thinks; I have my way to think as well and – nothing special - I don't have an issue with anyone."
Fernando Torres was given the nod ahead of Eto'o and Ba during in last night's game in Istanbul and the Spaniard responded by opening the scoring for his side. Although Mourinho felt his side passed up the chance to score a second and effectively kill off the tie, he refused to lay the blame at the feet of his front men.
He told Sky Sports: "I am not critical of my strikers because they had a good game, but overall when we have counter-attack situations we are missing the right pass or the right choice, and a second goal would have changed the flow of the game completely."
© Copyright IBTimes 2023. All rights reserved.