A los tontos no les dura el dinero. Or, in English, a fool and his money are soon parted.
But would British customers of Santander UK, one of the UK's biggest retail banks and a subsidiary of Spanish bank Santander, be foolish to leave cash in their current accounts with the Iberian financiers given the current economic crisis in Spain?
We all remember the images of customers queuing around the block to make emergency withdrawals from Northern Rock and reports from Greece of people doing the same can only alarm the wider public, but is widespread concern really necessary?
"In terms of protecting consumers, there's a huge amount of work that's gone on in the last few years since the financial crisis specifically around making sure that banks here have got enough capital so that if they face a problem they can deal with it," a spokeswoman for industry regulators the Financial Services Authority (FSA) told the International Business Times UK.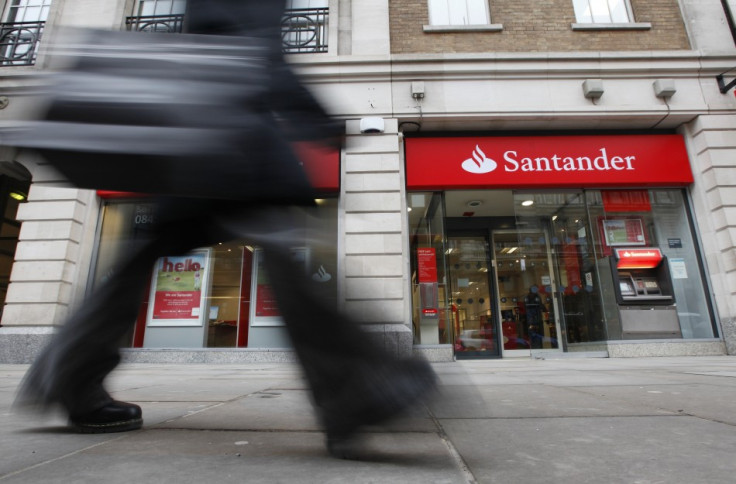 Santander's total customer deposits €632.5bn (£510.3bn) across the world, and in the UK alone it has 26.7m customers for its banking services, including current accounts, mortgages, and consumer credit cards, according to the bank's 2011 annual report.
It manages £233bn of customer funds in the UK.
Financial troubles in Santander's home country of Spain led to its creditworthiness being downgraded, as crippling government austerity is enforced in a desperate bid to keep down borrowing costs while cash-strapped banks are begging for recapitalisation.
Credit rating agency Moody's Investor Services downgraded Santander UK to A2, along with 16 Spanish banks.
Spain's government lacks sufficient cash to recapitalise its banks, which have most of their money tied up in assets and a capital buffer shortfall of €26.1bn, according to European regulators.
There are serious doubts over whether it will be able to raise enough money from the bond markets and the good will of other eurozone member states to prevent a collapse in Spain's finance industry, which would send a shockwave through the rest of the European banking sector.
Only recently has speculation over Spain pleading for aid hit the headlines.
However Santander UK is a subsidiary registered in the UK, not Spain, and does not operate as a branch - a significant distinction and one that should help ease customers' concerns.
Santander UK: subsidiary vs branch
Any bank operating from a European Economic Community (EEC) country can set up either a branch or a subsidiary of their operations within a fellow member state.
If registered as a branch then much of the control remains with the parent company and, as such, is largely regulated by the home country's rules.
Subsidiaries, on the other hand, operate for the most part independent of the parent company and so are governed by the financial regulators of the host country.
"If it sets up as a subsidiary it would become what is almost a completely separate entity ... therefore it is separate from the parent, so it has full control over its resources and would stand alone if something happened to the parent," the FSA spokeswoman said.
This means that the FSA's rules on capital requirements apply to Santander UK, as well as the work ensuring that banks understand their risks and can cope in the event of a financial crisis.
A Santander UK spokeswoman said its subsidiary status means it is "completely autonomous from its Spanish parent company".
"This structure acts as a firewall to prevent problems within one part of the group spreading to other units in the event of financial difficulties," she told IBTimes UK.
"Santander also operates a 'firewall' approach to borrowing and lending in the markets it operates in.
"This means that money raised in the UK stays in the UK."
The Financial Services Compensation Scheme
"There's a massive amount of work going into banks getting themselves into stronger positions, really understanding their risks, knowing how to deal with them, and then on the other side of that as well there has also been work done around the compensation scheme here in the UK so that if the worst happens customers know that up to £85,000 would be protected," the FSA spokeswoman said.
That £85,000 is protected under the Financial Services Compensation Scheme, which was set up under the Financial Services and Markets Act 2000.
It is a fund that guarantees re-payment of your savings up to the £85,000 limit should your bank fail and you stand to lose the money.
Those with more than £85,000 in cash savings held in any one bank may want to consider spreading it around into several accounts, lessening the risk of a loss should any worst-case-scenarios play out.
It would also be impossible for Santander, the parent company, simply to shut the UK subsidiary and drain its funds.
Because Santander UK operates autonomously its parent company is effectively the lone shareholder, and the only way for Santander to squeeze cash from its British subsidiary is through a substantial dividend payment.
However this dividend would have to be approved by the FSA and Santander UK would still be required to maintain a strong capital position after it was paid, in order to keep customers protected.
This would leave no impact on customers' savings.
"Customers should not be concerned," said the Santander UK spokeswoman.