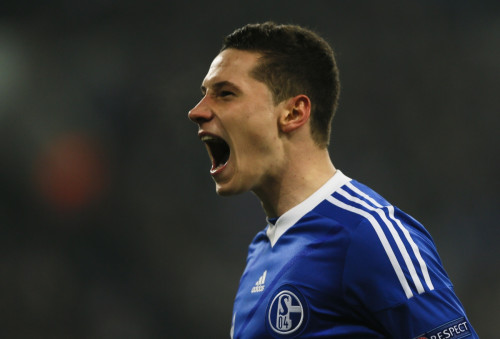 Schalke sporting director Horst Heldt has revealed that he cannot rule anything out with regards to Julian Draxler who is being closely monitored by Arsenal ahead of a possible swoop before the window shuts in January.
The Gunners have made the German international their top target in January, with Arsene Wenger looking to banish his woes up front by converting the midfielder into a centre-forward in the same ilk as Thierry Henry and Robin van Persie.
Arsenal are short up front, with Olivier Giroud and Nicklas Bendtner their only possible options through the middle after an unfortunate injury to Theo Walcott, which has ruled him out for the season.
Draxler's arrival will give them more attacking options in and around the box, wth the player capable of playing on the left and behind the striker.
Draxler has scored one goal thus far in what has been an injury prone season for the 20-year-old and Wenger will be hoping that he can get back to his best form to give Arsenal a viable chance to win their first Premier League trophy in over a decade.
However, Schalke are yet to agree to a move in January but Wenger will be hopeful amid Heldt's latest update where he keeps the door open to allow Arsenal a giant swoop in the upcoming five days.
"I can't exclude anything, I don't know what other clubs are planning. I only know what happens in our club – and nothing happens at the moment, so we don't bother with this. We are very calm with this thing," Heldt said.
Arsenal are currently top of the Premier League table, one point ahead of Manchester City and two ahead of Chelsea and are approaching a torrid period in the next couple of months, which will decide their title challenge.
Their next few fixtures include Liverpool in the Premier League at Anfield along with a FA Cup draw at the Emirates followed by games against Manchester United and Bayern Munich around them. A move for Draxler will alleviate the pressure on them to some degree and give them added impetus, as was the case with the signing of Mesut Ozil.