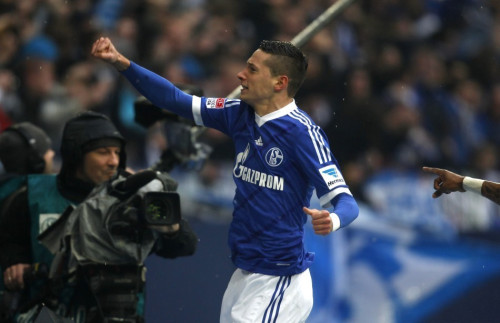 Schalke chief executive Clemens Tonnies has insisted that the club don't need to sell Julian Draxler as Arsenal continue to circle the German youngster.
Draxler has starred for Schalke since moving through the Bundesliga side's youth system into their senior line-up in 2011 and with a big future ahead for both club and country he's high on a number of sides' transfer wishlists.
Arsenal have been strongly connected with a move for the 20 year old who fits Arsene Wenger's recruitment policy perfectly but Tonnies insists that Schalke aren't a club who are in desperate need of money and can hold onto their player possibly beyond the summer.
"I am of the opinion that Julian should play for Schalke next season. That's my personal advice to him," Tonnies told Bild.

"He should not let the interest from abroad play with his head. It's best for his development when he can play without much pressure and with a clear mind.
"Looking back, at the start of the season he was under a lot of pressure then and the exact same thing will happen again if he moves.
"There are a number of big clubs after him, but we have no intention of selling him this winter. Even if we do not qualify for next year's Champions League, that doesn't mean we will have to sell Julian."
Draxler is currently committed to Schalke until 2018 after signing a contract extension with the club last summer. He has hinted that he would entertain the possibility of a move elsewhere after the World Cup and the youngster would likely have more power over his future at such a point where he isn't desperate to continue receiving regular game time in preparation for the tournament.
Arsenal are currently flying in the Premier League while Schalke have struggled to assert themselves as challengers for any silverware in the Bundesliga. And Draxler might be tempted by the prospect of linking up with some of Germany's best as Mesut Ozil, Lukas Podolski and Per Mertesacker ply their trade at the Emirates.