Scores of dead bodies litter besieged Marawi city in Philippines, local politician says
Zia Alonto Adiong cited locals fleeing the war zone as saying that nearly 100 dead bodies were scattered across the town.
The besieged Marawi city in the Philippines' Mindanao province is littered with scores of bodies of slain militants, Filipino soldiers and civilians, a local politician said on Thursday (15 June).
However, the Philippine military which is fighting Islamic State (Isis)-linked militants of Maute group in the town for the past three weeks did not confirm the report, Reuters wrote.
"Dead bodies, at least 100, scattered around the encounter area," Zia Alonto Adiong, who is helping in rescue and relief efforts in the area, told reporters. He said that he got the figures from locals fleeing the war-torn zone.
The army has reportedly said that a total of 290 people have been killed since the start of the Marawi operation. The casualties include 206 militants, 58 soldiers and 26 civilians.
Lieutenant Colonel Jo-Ar Herrera, a military spokesman, said their troops were trying "to finish the fight as soon as possible". Currently, the government forces were toward the commercial centre of Marawi City to liberate it from the Islamist militants.
"Our tactical commanders are doing their best," Herrera said, noting that they believe there are still nearly 200 militants in the area, many of whom had taken up sniper positions. "The battlefield is very fluid."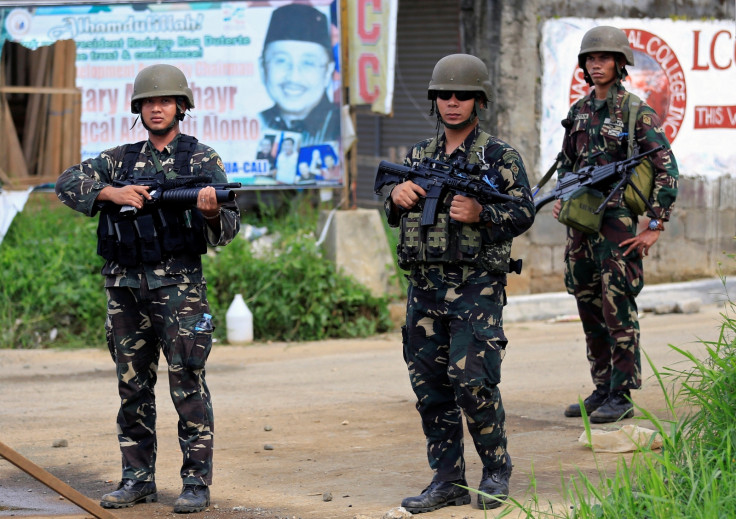 Meanwhile, the military earlier announced the arrest of one of the brothers of top Maute group commanders. Mohammad Noaim Maute, alias Abu Jadid, was nabbed at a checkpoint near the coastal city of Cagayan de Oro, Herrera reportedly said.
Maute's brothers Omarkhayam and Abdullah lead the Maute gang, which is currently engaged in fierce clashes in the besieged town located 100km south of Cagayan de Oro. The militant leaders' parents were also arrested last week.
The Marawi battle began on 23 May after the Philippine government forces launched an offensive in the city to capture Abu Sayyaf leader Isnilon Hapilon. The operation was launched based on a tip-off, but Hapilon's men opened fire on the government troops leading to a fierce firefight.
Abu Sayyaf is also a militant group that has pledged allegiance to Isis and is known in the country for kidnapping for ransom and brutal beheadings of hostages.
President Rodrigo Duterte had declared martial law in Mindanao province before the launch of the army offensive.
© Copyright IBTimes 2023. All rights reserved.