At least 31 Isis-linked militants have been killed in the two days of intense fighting in southern Philippines, the army said on Thursday (25 May). Clashes began after the Maute group militants began violent siege in Marawi city in Mindanao province.
The ensuing violence and army campaign to quell the extremists prompted President Rodrigo Duterte to declare martial law in Mindanao earlier in the week. He also said he was ready to expand the rule across the country if need be.
The Islamist jihadists had recently attacked churches in Marawi, taking several people and priests hostage. The military is trying to rescue them.
Elaborating on the ongoing fight, the Armed Forces of the Philippines' Western Mindanao Command said 13 fighters were killed in a two-hour gunfight on Thursday morning when their forces cleared two bridges heading toward Bangulo in Marawi city.
"As of this report, 31 terrorists were already neutralised and 6 high-powered firearms were recovered by the troops," Brigadier General Rolly Bautista, head of Joint Task Force ZamPeLan, told reporters later on Thursday.
He added: "Our troops are doing deliberate operations in areas we believe are still occupied or infested with the terrorists' presence. I specifically ordered our soldiers to locate and destroy these terrorists as soon as possible.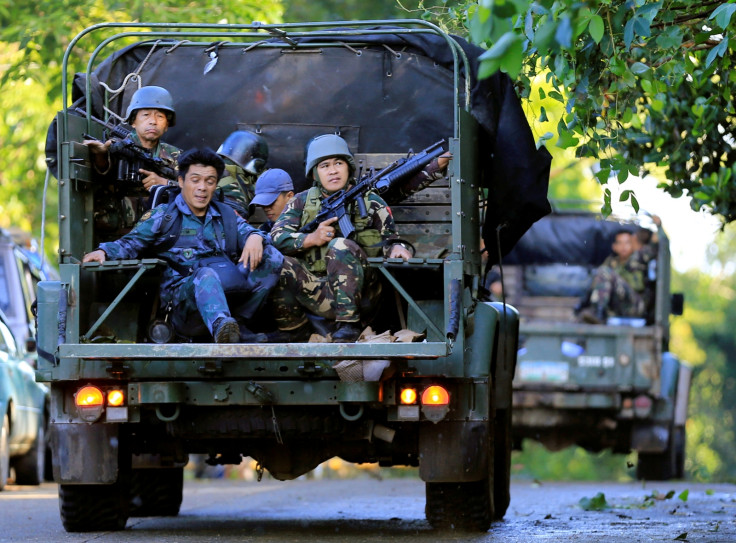 The officer added that they suffered six casualties in fresh clashes on Thursday, taking the death toll on the government side to 13. Five soldiers and two police officers were killed earlier in the week.
On Thursday, Lieutenant Colonel Jo-ar Herrera told the media that helicopters are firing rockets in "a precision attack", adding that they believe most-wanted terrorist Isnilon Hapilon is still in the city.
The intense violence reportedly erupted on Tuesday night after a failed attempt by the Philippines security forces to capture Hapilon, who is also wanted in the US and has a $5m bounty on his head.
Meanwhile, army has placed its forces in Bicol and Southern Tagalog regions on red alert, effective Wednesday. Officials said that the move is "to step up monitoring in possible areas targeted by the terrorist and other lawless armed group."