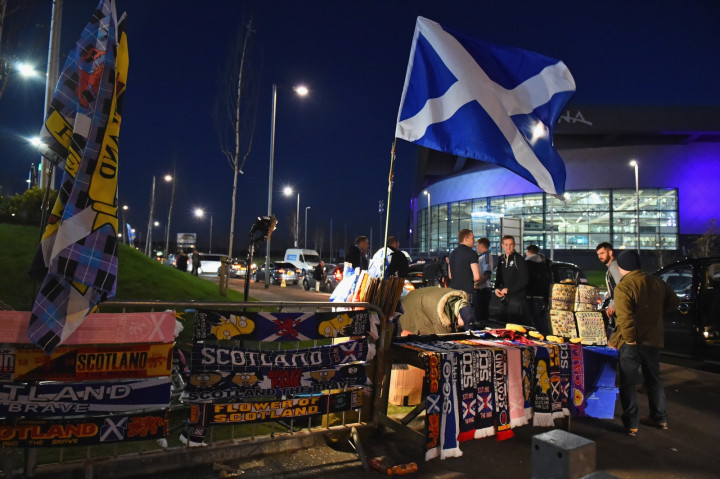 9:56: And that's it. Alex Oxlade-Chamberlain's opener and a brace from Wayne Rooney - goals which move him to within three goals of Bobby Charlton's record - have sealed victory for England.
Elsewhere this evening, Republic of Ireland have eased to a 4-1 win over United States, helped by a brace from Hull City's Robbie Brady.
After Cristiano Ronaldo and Lionel Messi were taken off at half time, a late goal from Raphael Guerreiro saw Portugal defeat Argentina at Old Trafford while world champions Germany also found a late winner through Toni Kroos to claim victory in their friendly with Spain.
FULL TIME
Scotland 1-3 England
9:54: Three minutes of added time to go.
9:53: The free kick is whipped into the box but no one can bring it down. It falls to Fletcher but his attempt to lift it back into the six yard area is cleared.
9:51: Russell tries to scamper past Clyne down the right flank but is tripped for his trouble. The Southampton man avoids a yellow card but Scotland have the free kick.
9:49: Immediately after that Scotland are back down the other end! An intricate passing move on the edge of the area just breaks down however, denying Russell a clean strike on goal.
9:47: And just like that, England have their two goal advantage back. Adam Lallana springs the Scotland defence and from the byline, cuts a neat ball back into the path of Rooney who sweeps home his second of the evening.
Goal! Scotland 1-3 England (Wayne Rooney, 84)
9:45: Scotland have one back! England fall asleep at the back, allowing Robertson to play a neat one two with Martin on the byline before drilling one past Fortser at the near post.
Goal! Scotland 1-2 England (Andy Robertson, 82)
9:41: Rooney frees Oxlade-Chamberlain down the inside right channel ahead of his marker. The Arsenal star who looks inside the box and tries to cut the ball back only for it to take a big deflection off Russell Martin. It falls to Wilshere from 12 yards out, but he lashes a volley wide of the post.
9:36: Portugal appear to have snatched this right at the death. Never mind your Ronaldos and your Messis, it's full back Raphael Guerreiro who has snuck in unmarked in the Argentine box to nod home from close range.
Goal! Argentina 0-1 Portugal (Raphael Guerreiro, 90)
9:29: Here are those expected changes, Shaw off, Kieran Gibbs on. Welbeck off, Raheem Sterling on. Both Shaw and Welbeck looked okay after suffering those minor knocks (Shaw's coming in the first half) but with Arsenal hosting Manchester United on Saturday, Arsene Wenger and Louis van Gaal will be relieved to see their players hauled off.
9:25: Welbeck picks the ball up in the centre circle and appears to be moving more freely after that issue a few moments ago. Bet on him to come off, anyway.
9:23: Danny Welbeck pulls up and immediately grabs his hamstring. He doesn't look comfortable at all, but plays on. Raheem Sterling is up into action and will likely come onto replace him.
9:20: Scotland are suffering from a real dip at the minute. Gordon Strachan looks fed up on the bench as his side fail to keep the ball before they are inevitably overrun.
9:14: Russell Martin is up to meet a cross with a towering header but Forster claws his effort over the bar.
9:09: From that resulting free kick, England have a second! After missing the first attempt, Rooney powers a header past Craig Gordon after the ball flicked off Charlie Mulgrew back into his path.
Goal! Scotland 0-2 England (Wayne Rooney, 47)
9:07: And we are back underway at Celtic Park and straight away Charlie Mulgrew is booked for cynically hauling down Oxlade-Chamberlain down the right flank.
8:53: We are back underway at Old Trafford between Argentina and Portugal, but Ronaldo and Messi won't be returning for it. Ricardo Quaresma and Nicolas Gaitan are on to replace the superstars.
HALF TIME
Scotland 0-1 England
8:45: Scotland advance down the left and Naismith does excellently to find Maloney four yards out from goal, but he can only shank his effort clear over the cross bar.
8:42: Milner has the chance to take a shot on from the edge of the area but his touch lets him down. He instead tries to slide a ball into Welbeck who isn't expecting the pass from 10 yards out and loses it, allowing Scotland to clear.
8:37: Oxlade-Chamberlain's run into the box was a clever one, but that goal was all about the pass from Wilshere.
8:33: England silence Celtic Park, which had admittedly turned a little quiet in the last five minutes. Jack Wilshere lifts a wonderful cross field ball into the box where Oxlade-Chamberlain, coming in from the right, has drifted in between the two centre halves. Wilshere's ball is so good his Arsenal teammate needs just the slightest touch to guide it into the bottom corner.
Goal! Scotland 0-1 England (Alex Oxlade-Chamberlain, 31)
8:31: Shaw goes off to receive some treatment but moments later signals he is okay and comes back on to continue. Back on the pitch, Maloney's ambitious pass is picked out easily by the away side but Whittaker gets across just in time to get something on Rooney's attempted through ball for Welbeck.
8:29: Nothing comes from that corner but worrying for England and Manchester United fans, Luke Shaw is down and looks to be in some pain.
8:27: Scotland probe again as Maloney looks to slide two teammates into space inside the left of the box but his ball is hacked away. Only far as Anya, however, who forces another corner off Clyne.
8:24: Steven Naismith drops deep, turns neatly and frees on the onrushing Robertson into space down the left. He throws an early ball into the box that looks like it was aimed for Scott Brown but just bypasses the Celtic captain. Scotland retrieve the ball but the chance is gone.
8:20: There's a couple of meaty looking challenges involving Welbeck, Shaw and Maloney down at the corner flag in Fraser Forster's end, the meatiest of which coming from the Scot. There's that edge to this game we've been expecting.
8:16: Anya runs at Clyne again and this time wins the corner. It was a short corner that undid Ireland at this ground on Friday and Scotland fancy their chances again, finding Whittaker unmarked approaching the edge of the box. He has plenty of time to line up his shot but pings it against the firsst Englishman in his way and the chance is gone.
8:14: Nani may be doing his best to wow Louis van Gaal during his impressive loan spell back at Sporting Lisbon this season, but the Dutchman won't be too impressed with what he's just seen at Old Trafford. The Portuguese winger has just left Angel di Maria in a heap after catching United's record signing right on the shin. It looked a painful one, but the Argentine is soon back on his feet.
8:11: Scotland probe in front of England before switching play to the left looking for Anya. The Watford winger appears to run into trouble but then brilliantly scampers past Clyne down the byline but can't quite keep the ball in.
8:09: Whittaker has hit pocket picked by Welbeck on the half way line and England pounce. It comes to Rooney again who threads a neat ball through to Welbeck in the box but he can't drive his shot across goal and Marshall saves.
8:07: The ball is swung in dangerously and met by Cahill, but he can't keep his header down.
8:05: Wilshere picks up an overhit pass in his own half, strides away from Naismith and bursts forward. He threads a ball through to Rooney who waits for support from Shaw down the left, but his cross is charged down. England corner.
8:03: And England get us underway at Celtic Park.
8:00: 'God Save the Queen' is drowned out by boos before a raucous version of 'Flower of Scotland' cascades down from around Celtic Park. Kick off upon us.
7:55: Ireland lead in their friendly clash against the United States! It's brilliant work from David McGoldrick as he finds Pilkington who chips it over Haamid.
Goal! Republic of Ireland 1-0 USA (Anthony Pilkington)
7:50: And we are closing in on kick off at Celtic Park. Expecting both anthems to be respectfully observed. Hang on, that isn't right...
7:30: In Manchester meanwhile the glamour friendly of the evening is taking place where Cristiano Ronaldo is back in town to lead Portugal out against World Cup runners up Argentina.
TEAM NEWS
Portugal: Beto, Bosingwa, Bruno Alves, Pepe, Tiago Gomes, Tiago, Moutinho, Andre Gomes, Nani, Danny, Ronaldo
Argentina: Romero; Roncaglia, Otamendi, Demichelis, Ansaldi; Biglia, Mascherano, Pastore; Di Maria, Higuain, Messi.
LINE UPS:
Scotland: Marshall, Whittaker, Robertson, R. Martin, Hanley, Maloney, Mulgrew, Brown, C. Martin, Naismith, Anya
England: Forster, Clyne, Shaw, Milner, Cahill, Smalling, Wilshere, Downing, Welbeck, Rooney, Oxlade-Chamberlain
TEAM NEWS - Scotland: Gordon Strachan names one change from the side that beat Republic of Ireland on Friday as Chris Martin comes in for the injured Steven Fletcher.
TEAM NEWS - England: Roy Hodgson makes six changes with the first coming in goal as Fraser Forster marks his return to Celtic Park with a starting role. Stewart Downing is back in the England midfield while Chris Smalling slots in at the back alongside Manchester United teammate Luke Shaw as Nathaniel Clyne retains his spot at right back.
7:10: Elsewhere this evening there are plenty of other friendlies to keep your eye on. Cristiano Ronaldo is back at Old Trafford as Portugal meet Argentina, while Spain host world champions Germany. The Republic of Ireland meanwhile welcome United States to the Aviva Stadium.
7:05: Old enemies Scotland and England had to wait 14 years for a meeting between the two sides. After that Wembley clash in August we have a second meeting within four months ahead of us at Celtic Park this evening.
Gordon Strachan's side enter tonight's game off the back of hard-fought victory over the Republic of Ireland at the same ground on Friday evening in their European Championship qualifier. While they exchanged blows with Martin O'Neil's side, England eased past Slovenia in far less arduous circumstances.
Without boring you with the rhetoric about tonight's game 'being more than a friendly', Scotland's renewed drive backed by a raucous Celtic Park should ensure tonight's clash makes the prolonged international break worthwhile.