Scotland's First Minister Humza Yousaf Reunites With In-Laws After Their Return From Gaza
After being trapped in Gaza for almost four weeks, Elizabeth and Maged El-Nakla were permitted to return and exit the besieged enclave through the Rafah crossing.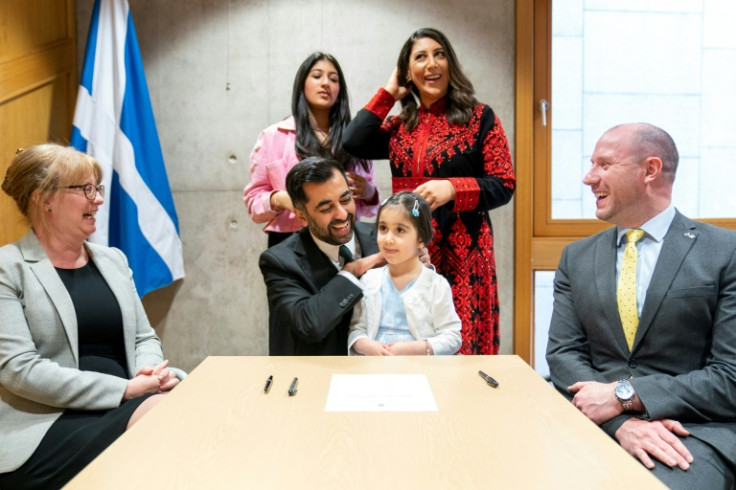 Humza Yousaf, Scotland's First Minister, has been reunited with his in-laws after they returned to Scotland from Gaza.
The elderly couple, Elizabeth and Maged El-Nakla, left the besieged enclave through the Rafah crossing last week, on Friday 3 November.
Yousaf announced their return on X, formerly Twitter, sharing a photo of his family with the caption: "I am pleased to say my in-laws are safe and back home."
Yousaf also revealed that his father-in-law had family members who were still unable to leave the Strip.
"We are, of course, elated, but my father-in-law said, 'My heart is broken in two, and with my mum, son & grandchildren in Gaza," he wrote.
"He then broke down telling me how hard it was saying goodbye to them," Yousaf added.
Yousaf told reporters that his in-laws have been "incredibly traumatised" after they had endured "almost four weeks in a war zone".
It will take "some time to recover", he recognised.
While telling his 14-year-old daughter that "granny and grandpa are coming home", the Scottish First Minister noted that he was an emotional and "special moment".
After Israel formally declared war on Gaza last month, on 7 October, while the Rafah crossing remained closed to civilians, Mr and Mrs El-Nakla were unable to return home to Scotland.
On Wednesday 1 November, the Rafah crossing was opened to the first group of foreign nationals.
The group also included 81 people who were severely injured and would be able to seek medical assistance in Egypt.
A diplomatic source also reported that Egypt has planned for around 7,500 foreign passport holders to be evacuated over the course of two weeks.
So far, more than 100 Britons have left the enclave through the Rafah crossing, Deputy Prime Minster Oliver Dowden confirmed.
After returning to the UK, the family said in a statement: "These last four weeks have been a living nightmare for our family, we are so thankful for all of the messages of comfort and prayers that we have received from across the world, and indeed from across the political spectrum in Scotland and the UK."
In regard to the Rafah crossing being closed on Saturday 4 November, Dowden said that it was "disappointing" that "we couldn't get more out".
"We are making representations at every level to reopen the crossing and I am hopeful we will achieve that," Dowden added.
Yousaf has been repeatedly calling for a ceasefire in Gaza, where "innocent men women and children...are suffering unimaginable horror".
In a letter to several UK political leaders that was sent last week, the Scottish First Minister wrote: "The killing of innocent civilians can never be justified, wherever it occurs."
"Israel, like every other country, has a right to protect itself from attack, but in doing so it must comply with international law," he continued.
Yousaf called for "innocent civilians who want to leave to be given safe passage out", and went on to declare: "The situation in Gaza is at the point of being cataclysmic. All of us must do everything we can to prevent that. There must be no more dithering, or delay, together we must call for an immediate ceasefire."
More than one million people have attended pro-Palestine protests across the UK.
Despite the pro-Palestine protests calling for an immediate ceasefire, the demonstrations have been met with criticisms.
Home Secretary Suella Braverman has slammed protestors for chanting "from the river to the sea, Palestine will be free", noting that the rhyme calls for the destruction of Israel and is in support of Hamas' ideology.
The slogan "from the river to the sea, Palestine will be free" is also been viewed as a political call to put an end to the Israeli occupation of Palestinians in the West Bank and Gaza.
© Copyright IBTimes 2023. All rights reserved.