IDF Explain Jabalia Bombing And Critically Injured Leave Gaza
The Jabalia refugee camp has been hit by Israeli airstrikes twice in the past 24 hours. At the same time, the Rafah crossing was been opened to the first group of foreign nationals and critically injured persons.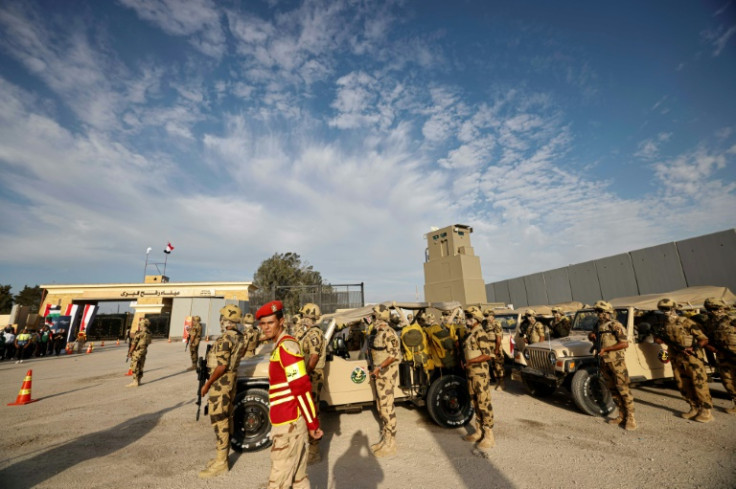 Today, Wednesday 1 November, the Rafah crossing was opened to allow the first group of foreign nationals out of Gaza. The group included at least 320 international passport holders and 81 severely injured persons.
Each person was driven through the Rafah crossing and was met with security checks on the Egyptian side.
Nahed Abu Taeema, the Director of the Nasser Hospital in the Gaza Strip, told reporters that Egypt has opened its hospitals to critically injured people.
"Those require advanced surgeries that can't be done here because of the lack of capabilities, especially women and children," Taeema said.
According to the Palestinian border authority in the enclave, Egypt has announced that it will be re-opening the Rafah crossing to foreigners on Thursday, allowing all British nationals to exit Gaza.
Writing on Facebook, the authorities noted that Egypt is only permitting those who are pre-registered and have their names on the list of foreigners to flee the war-torn Strip.
A diplomatic source said that Egypt has planned for around 7,500 foreign passport holders to be evacuated over the course of two weeks.
This news comes after an Israeli Defence Force (IDF) strike destroyed the Jabalia refugee camp yesterday, Tuesday 31 October.
Jabalia, Gaza's largest refugee camp, was hit again in an Israeli air strike today.
The proscribed terrorist group that has governed Gaza since 2007, Hamas, claimed that the strikes killed seven hostages and three foreign passport holders.
Palestinian Health officials announced that the Israeli air strike killed about 50 people and wounded 150.
However, in a live statement, an IDF Commander spoke of how the camp attack targeted to destroy Hamas' notorious web of tunnels that allows it to operate underneath Gaza and killed senior Hamas Commander Ibrahim Bihari.
Dozens of other Hamas operatives were also killed in the targeted strike, the Israeli armed forces said.
A spokesperson for the IDF recognised that Bihari was "not just another terrorist" and explained: "Since Israel began to respond to these attacks, Bihari has overseen Hamas' battle efforts in northern Gaza."
"Hamas embeds itself deeply in civilian infrastructure, sinking millions of dollars and massive resources into underground networks rather than investing it in the people of Gaza," the IDF source declared.
The spokesperson blamed the air strike killing dozens of civilians on the "result of the subterranean infrastructure".
"The building that was targeted collapsed, as did other buildings in the area," the spokesperson said.
Just weeks after the IDF started to bombard Hamas with retaliatory air strikes, almost 9,000 people have been killed – almost half of which, are children.
The hospitals have struggled to cope amid shutdowns due to shortages in fuel. Fearing that it would be diverted to Hamas, Israel has refused to allow humanitarian convoys carrying fuel into the Strip.
The air strike on Jabalia marked the deadliest single IDF attack in just over two weeks of Israeli air strikes.
Israel has vowed to continue to wipe out Hamas until they return all hostages to Israel and surrender, but the catastrophic air strikes and increasing civilian death toll have caused concern regarding war crimes across the globe.
The IDF reported that around 240 Israeli nationals, including dual citizens and foreign nationals, were kidnapped by Hamas militants during their attack on civilians on October 7.
Nine-month-old baby Kfir has been named as one of the youngest unaccounted-for children who was seized by Hamas and taken into Gaza.
According to family members, the young child was taken alongside his four-year-old brother Ariel.
Today, the IDF also announced that in the past 24 hours, one soldier was released from captivity and 15 of its soldiers have been killed in Israel's "ground incursion".
© Copyright IBTimes 2023. All rights reserved.