During an one-day international between West Indies and South Africa in 2010, the hosts' bowler Sulieman Benn was ordered off the field of play by captain Chris Gayle after refusing to bowl over the wicket during The Proteas' reply in Roseau.
Benn was subsequently fined his entire match-fee as West Indies were defeated 5-0 in the ODI series, but fractures from within the camp were far reaching. Two test matches and seven one-day internationals later, the 31 year old's international career is firmly cast to history.
Sebastian Vettel, Red Bull Racing's youngster three-time world champion, is unlikely to be struck with a similar sanction after he deliberately ignored team-orders in passing team-mate Mark Webber to win the Malaysian Grand Prix.
As far as the German's team were concerned, Vettel had scuppered the opportunity to win the race legitimately after the final pit-stop. A premature change onto wet tyres saw him lost in traffic early on, crucial time which saw Webber ahead with 12 laps remaining.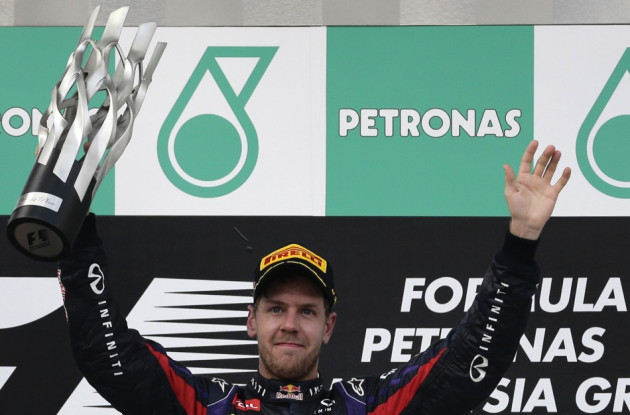 The Australian driver wound down his engine to preserve it ahead of China in a fortnight's time, while slowed to nurse his tyres through the remainder of the race after team principal Christian Horner requested both drivers bring home the cars and secure 43 constructors championship points. Vettel however, had other ideas.
In terms of his relationship with Webber, you could argue Vettel had little to lose in disobeying team orders. The tight finishes in the title race during two of the previous three years suggest that with Fernando Alonso having crashed out during the second lap, Vettel felt he could ill afford missing the opportunity to take advantage.
But let's not make this into a debate over team-orders, because even though the rule is now permitted in Formula 1, it hasn't stopped teams from previously directing their drivers, and nor will it upon any further alteration.
Instead of criticising the legislation, which with the huge prize money on offer for claiming the constructors title ties the hands of many teams, let us herald how regardless of those restrictions, Vettel and Webber's competitiveness superseded team protocol with fascinating and beautiful results.
The duel made the decision of Horner's opposite umber at Mercedes, Ross Brawn, an even easier one. With the potential for disaster was just a few hundred yards down the road, no way was Nico Rosberg going to be allowed to challenge Lewis Hamilton for third.
In claiming his third world title last year during the final race in Sao Paulo, Vettel required good fortune in not crashing out in the opening exchanges, before benefitting from fellow countryman Michael Schumacher's good nature, who allowed him to cement his third championship with a late pass.
However, his desperate actions on Sunday, and betrayal of his team-mate's confidence which results in an 11-point advantage over Kimi Raikonnen, all come at an insignificant stage of the season. Instead, Vettel has worked to ostracise himself from the grid.
After the final race of 2012 in Brazil displayed the importance of having allies on the track, Vettel is quickly running out of friends. His relationship with Webber is no-more damaged, but the perception of the record breaking world champion could have damaging ramifications late into the season.