A self-driving car developed at Oxford University that memorises frequently travelled routes has been test driven at Begbrooke Science Park in Oxfordshire.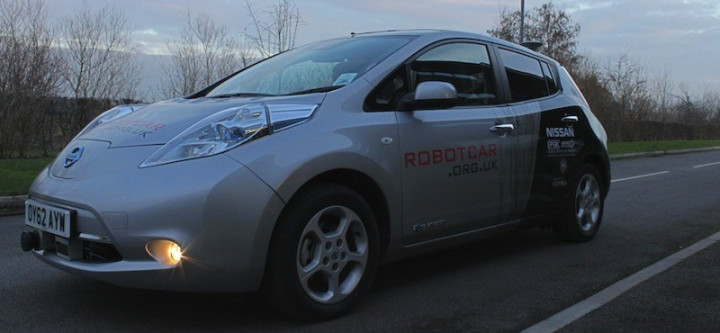 Developed by a team of Oxford University professors, the Oxford RobotCar UK project uses a modified Nissan LEAF equipped with lasers and small cameras that read the car's surroundings and memorise the driver's regular routes.
Once the RobotCar has gathered enough mapping information for a particular route, an iPad mounted on the dashboard offers drivers the option to let the car take over, though users can regain control of the vehicle by tapping the brakes.
The RobotCar differs from the driverless cars being tested by Google in that it does not navigate using GPS data, instead collecting all of its mapping information from the lasers and cameras mounted on the exterior. Also unlike Google, which has demoed its self-driving cars in Nevada, the RobotCar UK project has not yet reached an agreement with the Department of Transport that will allow it to test its driverless cars on the road.
"We're working with the Department of Transport to get some miles on the road in the UK," Professor Paul Newman, of Oxford University's department of engineering science told the BBC. "The key word for us is that the car gains 'experiences'. It's not depending on GPS, digging up the roads or anything like that - it's just the vehicles knowing where they are because they recognise their surroundings.
"Because our cities don't change very quickly, robotic vehicles will know and look out for familiar structures as they pass by so that they can ask a human driver 'I know this route, do you want me to drive?'"
Google's driverless cars have already accumulated more than 300,000 miles of automated driving on the roads of Nevada. However, Prof Newman said that the RobotCar will be a cheaper alternative to Google's GPS based equivalent. He said that although the laser and camera technology currently costs £5,000, in the future people will be able to equip their cars with driverless functionally for around £100:
"Our approach is made possible because of advances in 3D laser mapping that enable an affordable car-based robotic system to rapidly build up a detailed picture of its surroundings. If you look at it, we don't need a 3D laser spinning on the roof that's really expensive - so that's one thing straight away. I think our car has a lower profile."
And we won't have to wait too long for this technology to be available to everyone Professor Newman believes: "This is all UK intellectual property, getting into the [driverless car] race. I would be astounded if we don't see this kind of technology in cars within 15 years. That is going to be huge."