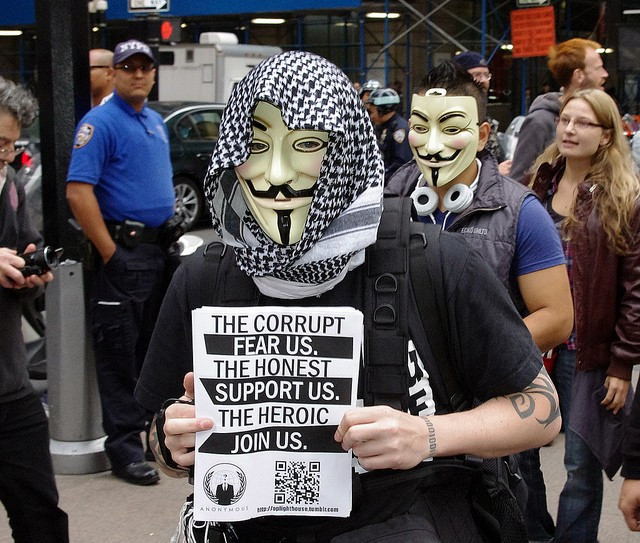 At least seven individuals have been arrested during Adbusters' ongoing Occupy Wall Street protest, one for wearing the "V" mask used by hacker collective Anonymous.
The arrests were initially reported by Bloomberg. In its report the news agency alleged that by the end of the protest's third day New York City Police had arrested as many as seven individuals.
The exact reasons for the arrests remains vague and conflicting reports have since emerged suggesting different motivations.
According to Bloomberg four protesters were arrested Monday for wearing masks -- New York law forbids more than two individuals wearing masks in a public space at any one time during a protest. The fifth protester was reportedly arrested for jumping a police barrier, while the sixth and seventh were detained for attempting to enter a building used by Bank of America Corp while wearing masks.
Bloomberg cited an e-mailed statement from police spokesman Paul Browne as its source.
The report ran contrary to an article from The New York Times, also printed Monday, that three protesters had been arrested for wearing masks. The report said two men for wearing ski masks and a woman was arrested for wearing a "a plastic mask on the back of her head." Reports from Twitter later emerged suggesting that the item in question was the "V" mask commonly worn and used by hacker collective Anonymous.
According to The New York Times the fourth man was arrested minutes later. Conflicting with Bloomberg's report, according to The New York Times, rather than being arrested for jumping a barricade, the man was arrested after saying he was having difficulty moving when ordered to "keep moving" by a deputy inspector policing the protest.
Another woman, identified in the report as Jessica Davis, 19, was arrested on graffiti charges.
The protesters were all arrested while taking part in Adbusters' Occupy Wall Street campaign. The campaign began Saturday with around 1,000 individuals rallying in Manhattan's Financial District. The initial call-to-arms asked for 20,000. Reports now generally estimate the number of protesters at around 200.
The campaign is reportedly being enacted to protest Wall Street's current influence on American policy. Since being announced it has garnered widespread support from numerous groups, including the infamous hacktivist collective Anonymous.
The group has since continued its support, linking to a live-video stream chronicling the protest.
UPDATE: New reports have emerged suggesting police have arrested several members of the media team filming the protest.
UPDATE: Anonymous has put out a call asking for aid to keep the live video feed running.
UPDATE: Footage has emerged showing New York Police violently arresting protesters.
UPDATE: Twitter user @Not_Me has since contacted the IBTimes with footage of the arrest showing he was not masked. "was charged with mask related crimes-- girl got failure to obey a lawful order (although no one knows what order that was)," read Not_Me's message.