Shares in China National Nuclear Power Co (CNNPC) shot up in their Shanghai debut, after raising CN¥13.19bn (£1.37bn, €1.88bn, $2.12bn) in the nation's largest initial public offering (IPO) since 2011.
Shares of CNNPC, a unit of one of China's two state-owned nuclear reactor builders, opened 44% higher at CN¥4.88 on 10 June, before trading was halted with the scrip striking the first-day trading cap.
By comparison, the benchmark Shanghai Composite index finished 0.15% lower. The share average has gained some 74% over the past six months.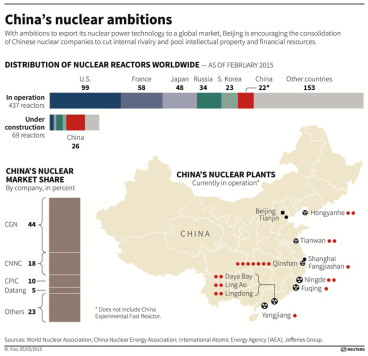 CNNPC is a unit of China National Nuclear Corp (CNNC), which invests, builds and operates domestic nuclear power plants. It has 12 subsidiaries in different regions.
Proceeds from the share sale will be utilised to build four new nuclear power projects, Reuters reported. CNNPC, which had been planning an IPO since 2012, plans to use some of the proceeds to fund the construction of the world's first Westinghouse AP1000 reactor that has been repeatedly delayed.
The funds raised will also help the firm with a domestic reactor building programme, which it hopes will serve as a springboard into the international market.
China's stock market has more than doubled since November 2014 when the central bank lowered interest rates to support a slowing economy. Demand has also been spurred by higher margin financing and the roll out of the Shanghai-Hong Kong stock connect scheme.
CNNPC's first-quarter operating revenue was CN¥6.36bn, up 45% from the corresponding period a year ago, according to a June filing to the Shanghai Stock Exchange.