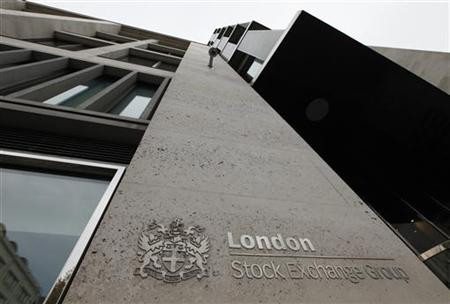 Shares in British banks recovered after early losses in morning trading incurred by ongoing worries about the sovereign debt in the eurozone and by a new investigation by the Office of Fair Trading.
The OFT said that it would be opening an investigation today into the market for equity underwriting, which is currently occupied mainly by a few large investment banks like Citigroup, Goldman Sachs, Morgan Stanley and UBS.
The news sent shares in British banks Lloyds Banking Group, RBS, Barclays and HSBC down 0.1-1.1 per cent in early morning trading.
However before noon shares started to recover and made some gains.
By 11:17 shares in Lloyds Banking Group were up 1.84 per cent to 54.27 pence per share, RBS shares were flat at 42.08 pence per share, Barclays shares increased 2.62 per cent to 287.55 pence per share and HSBC shares climbed 0.37 per cent to 644.00 pence per share.
Overall the FTSE 100 was up 0.27 per cent to 5,099.91.