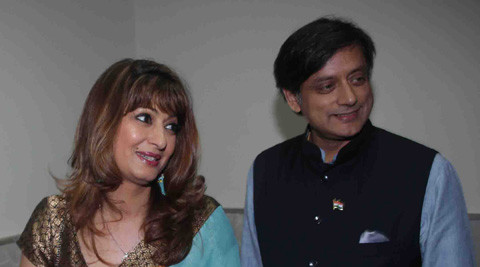 Sunanda Pushkar, the wife of Indian minister Shashi Tharoor, has been found dead following reports her husband had an affair.
Pushkar, 52, was found dead at the five-star Leela Palace hotel in New Delhi by authorities, according to Indian media. It is believed her death is not suspicious.
Her death follows one day after she and her husband released a statement saying they were still happily married and intended to stay together following rumours he had an affair with a Pakistani journalist, Mehr Tarar.
Pushkar is said to have used her husband's Twitter account to post a series of private messages between him and Tarar to his two million followers.
Following the controversy, Tharoor deleted his Twitter account and said it would be offline for some time. Both he and Tarar denied an affair between the pair took place.
Pushkar and Tharoor released a statement following the Twitter outcry saying: "We are distressed by the unseemly controversy that has arisen about some unauthorised tweets from our Twitter accounts. Various distorted accounts of comments allegedly made by Sunanda have appeared in the press.
"It appears that some personal and private comments responding to these unauthorised tweets — comments that were not intended for publication — have been misrepresented and led to some erroneous conclusions."
Tarar paid tribute to Pushkar via her Twitter account. She said: "I just woke up and read this. I'm absolutely shocked. This is too awful for words. So tragic I don't know what to say. Rest in peace,Sunanda."