Dozens of people have been injured in a multi-vehicle crash of 100 cars in heavy fog the Isle of Sheppey bridge in Kent.
Emergency services said that eight people had been seriously injured on the A249, while 60 others were receiving treatment for minor injuries -down from 200 initially reported.
Firefighters said that five people had to be cut out of their cars following the morning rush-hour smash. About 80 ambulance staff were on the scene.
Kent Police said that visibility was poor on the bridge because of thick fog. Witness reported seeing some motorists driving without headlights or driving too fast.
One witness, Martin Stammers, told Sky News: "I was very lucky. I was the last car out of it, if you like. As I came to the top of the hill, there were about five cars already smashed up. One was across my carriageway.
"I had to hit my brakes hard. I just had enough space to get through.
"From then on, all you could hear was the screeching of car tyres and the thudding, which was endless."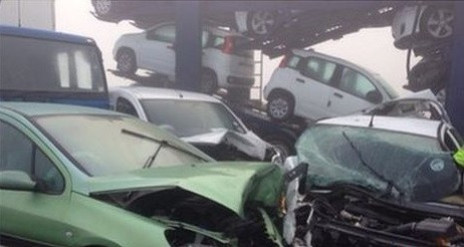 Another witness, David Ingram, described the scene of the crash as "mayhem".
"People were going quite fast - too fast. We were about 50 to 60 cars back. Luckily people coming on to the island were flashing their lights and waving their arms like mad.
"It's carnage, it really is. The fog was very, very thick. You could not see a vehicle in front of you as you came on to the bridge."
Kent Fire and Rescue Service said: "There are no fatalities but ambulance crews are dealing with a large number of walking wounded."
Kent Police urged motorists to avoid the area. The old Kingsferry Bridge remains open for essential journeys to and from the Island.
The road remained closed at Cowstead Corner on the island and motorists were being directed to the Kingsferry Bridge. The road was closed at the Iwade turn-off .