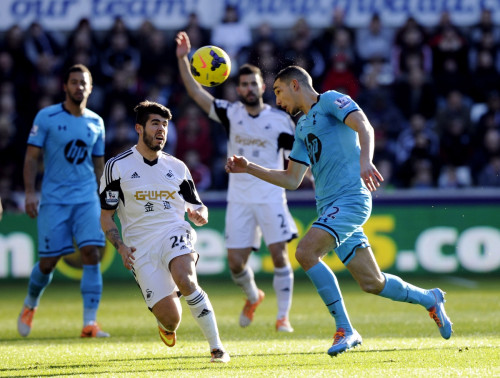 Tottenham Hotspur head coach Tim Sherwood believes his young midfielder Nabil Bentaleb will soon be at the centre of a tug of war between France and England over his international eligibility.
The 19-year-old has been handed a first team role by Sherwood after the former midfielder was named Andre Villas-Boas' replacement and his impressive performances have coincided with a much improved run of form which sees Spurs sat fifth in the league, missing out on a top four spot by virtue of goal difference.
The former Lille youngster was handed his first starting appearance in the 2-0 win over Crystal Palace earlier this month and retained his spot in Sunday's 3-1 win over Swansea.
With the FA reportedly considering approaching Bentaleb when he becomes eligible for England in 2017 Sherwood predicts such interest will spark France into action sooner rather than later.
"If he carries on the way he is at the moment he'll be knocking at the door for the French squad at the World Cup," Sherwood was quoted as saying by Fifa.com. "He's got to make a decision and I'm not sure how much love the French are showing him now.
"He's been in the wilderness but now he's not and everyone is starting to know about him. He's performing regularly and if the English are serious about it, it probably could be an arm wrestle between them and the French.
"I'm not saying they didn't treat him well, it's that he's been in the wilderness because he hasn't played. To scout him they'd have had to come to watch our under-21's. I maintain that (good) players are out there, whether they're French, English, Scottish, whatever, people just have to look harder and they have to trust them."
The French-born Bentaleb is also eligible for Algeria through his parents and the national team manager Vahid Halilhodzic is also keen to select the player ahead of a friendly against Slovenia in March, which will scupper the attempts of both France and England to enlist the midfielder.