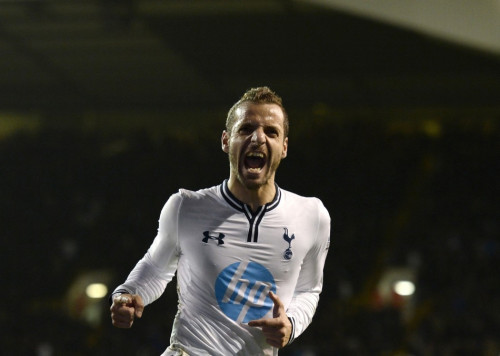 Tim Sherwood has insisted that Tottenham will get their money's worth for Roberto Soldado as the striker continues to struggle up front since his summer move.
Soldado smashed Spurs' transfer record when he signed a deal to head to White Hart Lane from Valencia for a fee of around £26m. The record was soon broken again by Erik Lamela, and both have so far failed to set the Premier League alight.
After another disappointing performance at the weekend in which Soldado failed to score against Arsenal and was eventually subbed off by Sherwood, the manager has insisted that he will get better.
"He will get there if he keeps sticking at it," he told reporters.
"He is a good pro. He seems to be all right, he seems to be happy in himself. I would like to give him a few more chances than he had at Arsenal.
"He has been in the game for a long time and he knows where the net is - we don't have to teach him that."
Sherwood has made the move of playing Soldado alongside Emmanuel Adebayor since his appointment but the side were punished for such tactics against the Gunners with their midfield lacking in numbers as a result.
The Spaniard had a wildly successful season before moving to Tottenham, scoring 31 goals for club and country before the summer. But so far this season he has found the net 10 times, and three of those were in his last 16 league games.
With a host of new faces coming into the fray last summer and now a new manager to contend with the players it would seem that Spurs may take some time in finding their best XI.