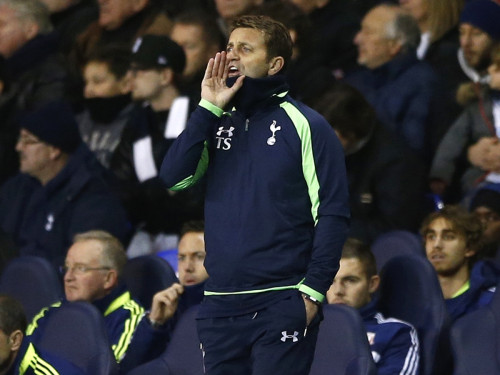 Tottenham Hotspur head coach Tim Sherwood admits there is a risk of the club losing their best players should the club fail to qualify for next season's Champions League.
Spurs' failure to secure Champions League football in their last two seasons has seen their two best players in recent years leave White Hart Lane as a result, as Luka Modric and Gareth Bale sought to realise their European ambitions away from north London.
While Sherwood's side remain firmly in the frame for a European spot some of their current stars have been the subject of envious glances from around Europe, with Jan Vertonghen and Hugo Lloris being targeted by Barcelona and Monaco in the past.
But the Spurs boss remains confident the reputation of the club will be enough to retain the services of their best players, in addition to attracting more high profile names.
"It's always a risk (losing the players). But Tottenham are a massive club and will always attract the biggest name players. If players are coming here to build and progress with the side, they will pick Tottenham," Sherwood told a press conference, The Evening Standard report.
"At other clubs, these players will go and sit on the bench and pick up championship medals, which is not what I would have done. This club sell themselves and are bigger than any manager.
"It's a massive club, and players will come if they want. They know full well what this club can offer. If the be-all and end all is the Champions League and we're not in it, they have to make a decision."
Sherwood also confirmed that record signing Erik Lamela has suffered another setback that will see him miss the visit of Newcastle United on Wednesday night.
"It is difficult to adapt to a different country, a different league and a different language as well but when you are suffering up these niggles, and something more than minor at the moment, it is disappointing for the lad," Sherwood is quoted as saying by the Daily Express.
"We signed him for the long-term and we are sure that in the end he will come good for Tottenham and be a crowd favourite here."