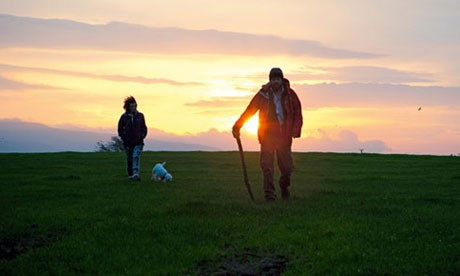 WARNING: Video contains violence and strong language
The first trailer has been released for Sightseers, a black comedy by acclaimed British director Ben Wheatley.
The film follows Tina and Chris, played by Alice Lowe and Steve Oram, on their caravan holiday in Yorkshire. What appears initially to be a typical British comedy takes a dark turn when a fellow rambler confronts the pair for not cleaning up their dog mess and Chris shows his violent side.
The pair then embark on a dark road trip, best described as "Natural Born Caravanners", in a film that looks like a curious mixture of Last of the Summer Wine and Badlands.
Wheatley marked himself out as a talented director with an eye for naturalistic dialogue and violence with his 2009 gangster kitchen sink drama Down Terrace and his terrifying hitman horror film Kill List in 2011.
They both contained pitch black comedy, despite sometime disturbing subject matter, and Sightseers looks set to upset the knee-jerk tabloids. At one point in the trailer Chris describes a victim as "not a person - he's a Daily Mail reader".
It seems likely the stereotypical Mail reader will be shocked at the subject matter of Sightseers, which is executive-produced by Shaun of the Dead director Edgar Wright. Oram and Lowe also co-wrote the film.
Sightseers will be released on 30 November.