More people are purchasing illegal drugs for the first time online than ever before despite a crackdown on sites such as Silk Road, which reside on the dark web and have become notorious for peddling illegal products and services.
Despite the closure of the infamous Silk Road by the FBI in 2013 - the website which allowed users to anonymously buy and sell anything online, including drugs - more people are using the internet to purchase illegal drugs than ever before.
Dark web explained
The dark web is a section of the internet that is not indexed by search engines such as Google, and not easily navigated to using a standard web browser.
Accessing the dark web requires specialised knowledge and software tools. An example of this is content only accessible by using the Tor software and anonymity network, which while protecting privacy, is often associated with illicit activities.
According to the Global Drugs Survey 2015, which examines data from 100,000 responses across 50 countries, one quarter of the 11,750 people who said they had bought drugs online had done so in 2014, more than any other year.
MDMA, LSD and forms of cannabis such as hydro or herbal are the most popular drugs purchased online. The report notes that when given access to drugs to buy online, the ones people appear to choose are the "traditional illicit" drugs which are "tried, tested, desirable, familiar and probably safer".
However, the report also showed how 30% of those who had purchased drugs on the dark web had since consumed a wider range of drugs than before.
The report states: "As we suspected, access to lots of drugs for some...leads to experimentation with new drugs and extended drug repertoires which may not be a good thing for some people."
The report also looks into what people saw as some of the advantages when purchasing drugs online as opposed to using an alternative source such as off the street.
Of the respondents who said they bought drugs online, 3.3% said they had experienced threats to personal safety, compared to 17.9% of those who also used an alternative source.
Three quarters of people (75.3%) said they had experienced paying more than than reasonable price for drugs when using an alternative source, compared to 37.9% of those who used the dark websites.
Just over a quarter (27.2%) of people who bought drugs online had recorded low purity product as an issue, whereas nearly three quarters (74.2%) of people who purchased drugs elsewhere said they had experienced this problem.
Overall, the report says how "reduced rates of exposure to violence, less adulterated drugs, more confidence in product quality and removal from street dealing were clear benefits" of using the dark web to purchase drugs.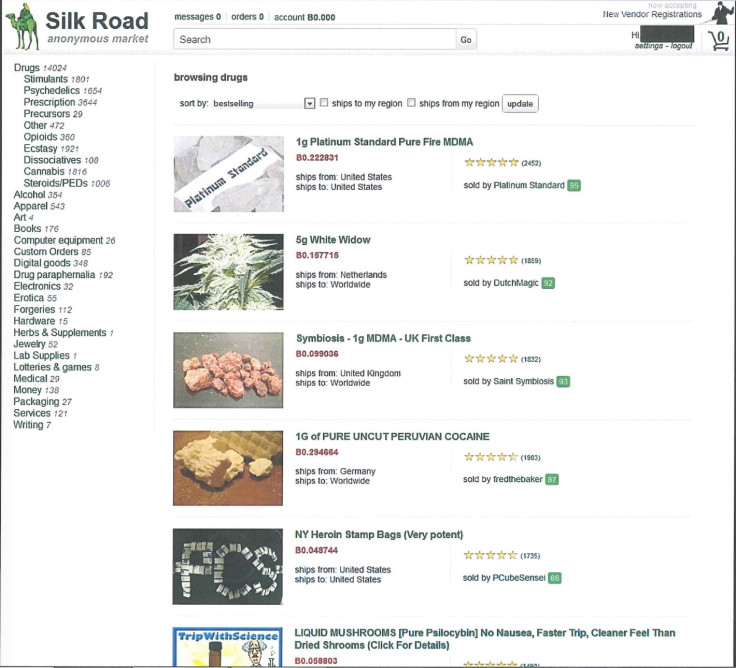 The Silk Road
The closure of drug dealing website Silk Road does not appear to have had an effect on the worldwide sales of drugs last year.
After it was shut down in 2013, the FBI estimated around $182.9m (£122m) worth of drugs had been purchased from the site in around two and a half years.
Rather than resulting in a crackdown in drugs being sold online, the closure of Silk Road appears to have increased its popularity. Previous research by the BBC suggested that the number of listings on the dark web offering illegal drugs had more than doubled in the 10 months after Silk Road's closure.
Ross Ulbricht, the creator of Silk Road, was sentenced to life in prison after he was found guilty of narcotics trafficking, computer hacking, money laundering, conspiracy to traffic fraudulent IDs and engaging in a continuing criminal enterprise.
The FBI described Silk Road as the "most sophisticated and extensive criminal marketplace on the internet" and was used to distribute "hundreds of kilograms of illegal drugs and other unlawful goods and services to well over a hundred thousand buyers."
Following his conviction, the FBI also said Ulbricht had demonstrated a "willingness to use violence to protect his criminal enterprise and the anonymity of its users" during his time running the Silk Road site.