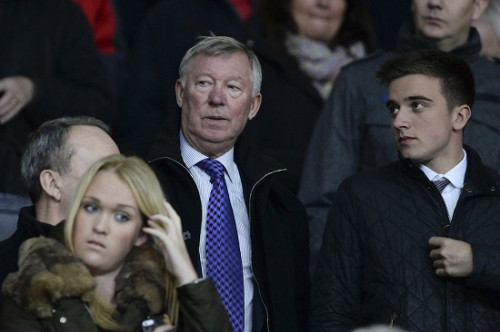 Sir Alex Ferguson was advised to refrain from watching Manchester United in David Moyes' first season at Old Trafford by former coach Rene Meulensteen.
Ferguson left United after 26 years at the helm to become a director, and was replaced by Moyes who has endured a difficult start to life at the club having fallen 14 points behind leaders Arsenal and being dumped out of the FA Cup and the League Cup.
Much has been made of Ferguson's continued presence at United matches this season, with accusations his attendance is hindering Moyes' ability to make the position at the helm his own.
And Meulensteen says he told Ferguson to avoid returning to United this season in order to allow Moyes to stamp his authority on his spell in charge.
"I remember saying after he retired 'you should stay away for a year and see how it goes leave it alone'," the current Fulham boss told The Sun. "But he wasn't able to do that."
"It's not surprising because if that is what you have been doing all your life, it becomes very hard to say goodbye to it."
Moyes discarded Meulensteen upon his arrival at United with the Scot bringing in his own backroom team from Everton.
United have since fallen by the way side in their attempt to retain the Premier League title but Ferguson believes as many as six sides remain in the race.
"This year for the first time it really looks as if five or six could be involved, so it's a great Premier League," he said.
"It's still not an easy league to win. I think the English game is the most honest and is the hardest league to win in terms of the competition you face. You can lose to anyone.
"You have to say Manchester City are playing so well, there is no dispute about that, but the teams at the top at the minute must have a big chance.
"Arsenal must have a big chance. Everyone keeps writing them off, saying they won't last, but we're into the second half of the season and they are still there.
"Then you've got Chelsea, Everton, Tottenham, who are starting to do well.
"United always do well in the second half of the season, so we've got a fantastic league and we should be proud of that."