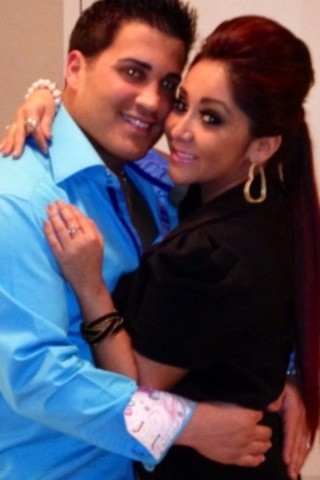 Jersey Shore star Nicole "Snooki" Polizzi is busy preparing for her maternity days and to be a responsible mother.
In an interview with Good Morning America the reality star talks about all things relating to her pregnancy: concerns about the baby, how it has changed priorities in the couple's lives including giving up partying (she was a hardcore party animal) and giving up on her tanning. But the 24- year-old is trying for alternatives to give the best for the baby
"I'm just scared," she told JuJu Chang, host of the show, "My friend did and she said it was so painful...but I definitely want to pump because it's the best nutrients for the baby."
Chang took Snooki to a children's store, browsing through baby products and checked out breast pumps which she compared to the process of milking a cow. She seemed curious to know how it works.
"It's kind of like you're a cow, and you just milk it?" Snooki asked. The mother of three, who has experience of using one herself, explained that it does hurt initially but gets easier with time.
But one thing she will not sacrifice is her love for high heels, which she has been sporting even with the baby bump.
"I feel confident in them and I know I am not going to fall," she said. "So until it feels really uncomfortable, I am still going to rock them because I am only 24 and I am pregnant, but that doesn't mean I have to wear flat and ugly shoes."
Snooki is having her first child - a boy, with fiancé Jionni LaValle in September and is excited about her pregnancy.
"Everyone said I was going to have a boy, and they were right!" Snooki told In Touch magazine in May: "I thought it was going to be a girl. I was hoping it would be, because all girls want girls. It's still my baby, no matter what. I'm excited either way!"