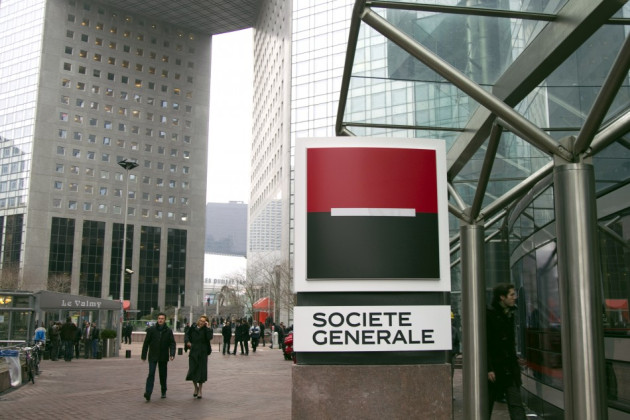 Societe Generale shares posted early gains Wednesday after reporting solid performance from its domestic retail banking division and indicating to investors that hasn't been tainted by the global inter-bank lending market scandal.
France's second largest bank posted net income of €433m, the company said in a statement Wednesday, down 43 percent from the €747m bottom line it booked in the same period last year and well shy of analysts' estimates. Group revenues fell only 3.6 percent to €6.27bn but the bank was hit by more than €450m in writedowns linked to its operations in Russia and the United States as well as disappointing earnings in its corporate and investment banking division.
Shares in the group rose nearly 2 percent in early Paris trading to change hands at €18.33. The stock has fallen around 6.5 percent so far this year.
SocGen, as the bank is commonly known, booked a €250m writedown linked to its OAO Rosbank holding and a further €200m charged linked to is Los Angeles based asset manager TCW Group. A further €150m was taken down through write-offs of underperforming sub-prime mortgage assets in the United States.
The group's domestic banking division gained the lion's share of earnings, booking profit of €360m - a 6.3 percent decline from last year. However, poor performance and write-downs in Russia led to a €231m loss in SocGen's international retail unit.
Corporate and investment banking profits also slumped considerably, falling 70 percent from the same period last year as equity market revenues plunged and client activity slowed during the European sovereign debt crisis. The unit's bottom line came in at just €131m compared to nearly €450m in the second quarter of 2011.
CEO Frederic Oueda has been trimming down the bank's reliance on its corporate unit and plans further asset sales and job cuts as part of an on-going strategy to meet so-called Basel 3 rules on capital provisions by the end of 2013. Oueda says SocGen can meet its 9 perecent to 9.5 percent target of so-called Tier 1 capital (money the bank must set aside to cover potential losses and protect savers and investors) by 2013 without issuing new shares.
The bank, whose reputation was rocked by a rouge-trading scandal four years ago, also told investors it had not been named as an alleged participant in the growing global probe into libor manipulation, although it has been co-operating with relevant authorities in their investigations.