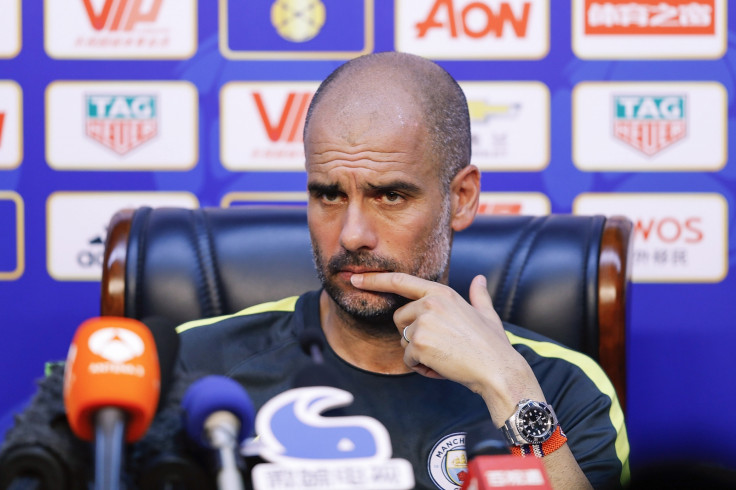 Pep Guardiola has confirmed that John Stones is ready to make his Manchester City debut in the Premier League opener against Sunderland on Saturday (13 August) despite the young centre-back only joining the club three days ago from Everton. The Spanish boss, however, ruled out Leroy Sane while saying Nicolas Otamendi is also a doubt.
The former Barcelona and Bayern Munich manager has overhauled his squad ahead of his own Premier League debut. Stones is the latest to join his revolution, following summer signings of Sane, Ilkay Gundogan, Nolito, Oleksandr Zinchenko, Gabriel Jesus, Marlos Moreno and Aaron Mooy – although the last three have been loaned elsewhere to continue their development.
Guardiola has hailed the arrival of former Everton defender Stones as a key player who can shape the game from the back, and he said the new boy could even start against Sunderland.
"It's important for us to have a young English player with a huge talent," Guardiola told a press conference. "Not just to defend but for the build-up, his intelligence and the ability to play through the lines. He's a good, good player. He's fit – he played four, five, six friendly games with Ronald Koeman at Everton."
"Stones has had a lack of time with his teammates but he reads the game so there are people who are intelligent. He reads what's going on and what he needs to do – I think he's ready."
Guardiola revealed that Otamendi, Stones's potential partner in the heart of the defence, faces a late fitness test to see whether he is available. The Argentinian has recovered from a tendon problem but the boss doesn't want to take any risk with him ahead of the Champions League play-off with Steaua Bucharest.
"Nicolas is much, much better – he had a problem with his tendon. He will be fit but we have a little, little eye on the game in Romania, so we'll see tomorrow whether he'll play against Sunderland," he said while also ruling out City's new signing from Schalke. "Sane didn't train with us, he's out – in the next week I think he'll start to train," he said.
Guardiola said that he is yet to decide on his first line-up of the campaign but said that whoever plays will need to show soul.
"I know 80/90% who's going to play tomorrow but I'll sleep on it. It's almost done – not quite 100%, I need my dreams to make the right decision. To create something you need time, to create ideas to attack, but for soul we don't need time," he declared.
"Tomorrow I don't know if we're going to play good but I won't accept [it] if we don't play with soul. We play tomorrow from the first day. That's what I'm looking for from our team. I want our fans in the Etihad to see that. I want my players to play their football with pleasure inside."
Guardiola, meanwhile, also suggested he is open to making more signings before the end of the transfer window on 31 August, while some players will also need to go to make way for the new additions.
"[That] is the last day – then we'll see who will stay, who will be loaned, who will be sold and who will be coming," he said amid speculation linking the likes of Samir Nasri, Jesus Navas, Eliaquim Mangala or Wilfried Bony with a move away from the Etihad. "We'll see over the next three weeks how the team looks."