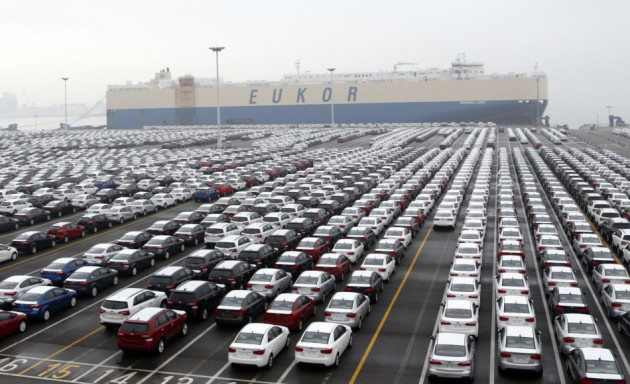 South Korea's industrial production increased in December on higher domestic consumption that more than offset a decline in exports, but the growth was at a weaker pace than in November.
Statistics Korea said that production in the mining, manufacturing, gas and electricity industries rose a seasonally adjusted 1.0 percent in December from a month earlier, weaker than a revised 2.6 percent gain in November.
Economists polled by Bloomberg were expecting a month-on-month fall of 1.5 percent on average in December.
On a year-on-year basis, the December reading was up 0.8 percent, compared to a revised 3.2 percent rise in November.
The index of all industry production in December rose by 0.8 percent from the previous month and 0.3 percent from the year-ago month.
"Despite declines in the electricity and gas businesses, the December output growth was driven by increases in the mining and manufacturing sectors," the government agency said.
In order to tackle the slowdown in the economy, the country's government announced more budget spending in the first half of 2013. The recent weakness in the yen is also aiding rival exporters in Japan.
Separately, the Bank of Korea said in a statement that the current account surplus narrowed to $2.3bn (£1.46bn, €1.71bn) in December from a revised record surplus of $6.9bn in November. December exports were affected by decreased overseas shipments of steel, electronics and cars.
The country, which largely depends on exports for its economic growth, was hurt by shrinking demand overseas due to the sovereign-debt crisis in the eurozone and a slowdown in China in 2012. It recorded a growth rate of 2 percent in 2012, the slowest pace in three years.
South Korean shipments are expected to increase over the coming months due to the economic recovery in China and the US. In addition, the recent decline in the won which gained more than 8 percent against the dollar last year is helping exports with reduced currency pressure.
Hoe Ee Khor, the country mission chief for the International Monetary Fund, is projecting the economy to grow by about 3 percent in 2013. That was in contrast to a lowered forecast for a 2.8 percent growth in 2013 by the central bank.